June 27, 2022
Good morning. In today's either/view, we discuss the Supreme Court's recent order on eco-sensitive zones. We also look at the underage marriages in West Bengal, among other news.
---
📰

FEATURE STORY
Eco-Sensitive Zones – Conservation Versus Livelihoods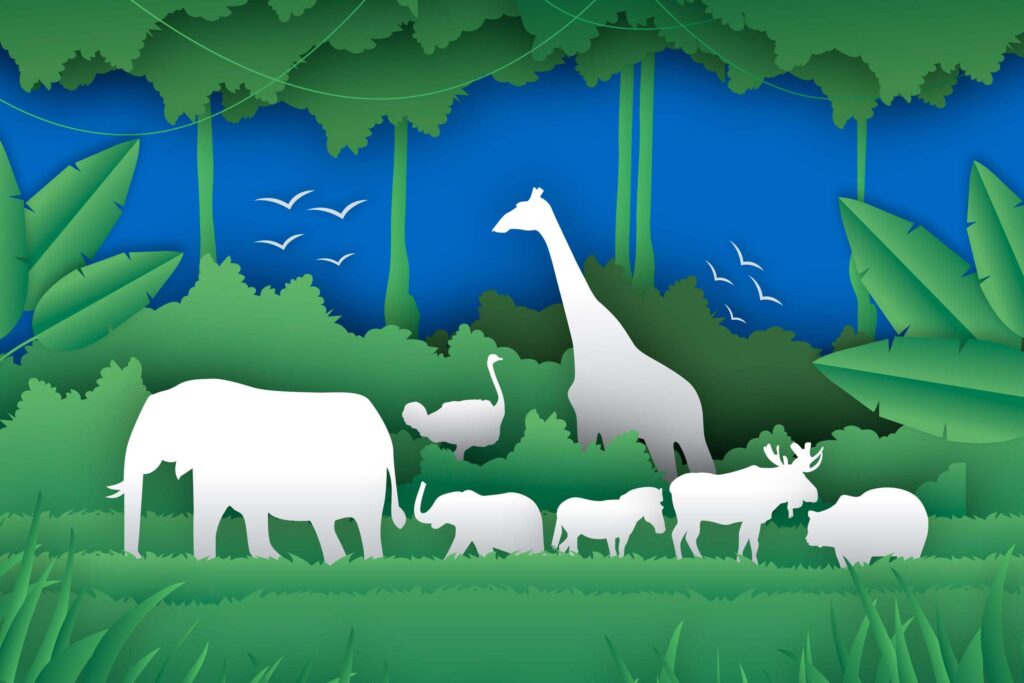 In the eternal struggle between man and nature, the battle lines are clear for everyone to see. How do we protect nature and ensure people aren't affected? The issue of eco-sensitive zones, having a buffer area to protect nature, is tricky. Either humans and nature are to be kept separate, or conservation depends on human beings' intrinsic relationship with the environment.
The apex court has had its say. The Supreme Court directed the Kerala government to create a 1-km eco-sensitive (ESZ) around all wildlife sanctuaries and national parks. Its reasoning was a looming climate catastrophe due to global warming. Environmentalists are ecstatic. Local leaders and some experts aren't. Does the order make sense? Will it affect people adversely?
Context
What are ESZs? They're land that has been notified by the Central government through the Ministry of Environment, Forests and Climate Change (MOEFCC). A certain amount of land is earmarked as an ESZ to protect it from encroachment. The protection gives the area some respite from any harmful activities.
The Environment (Protection) Act, 1986 guides any environmental legislation. However, there's no specific mention of ESZs in the Act. What it does have is Section 3(2)(v). It states the Central government can restrict areas in which any industry operates. There's also Section 5(1). It states the Centre can prohibit the location of industries and certain operations based on a region's biological diversity.
The government can use these two clauses to declare ESZs and No Development Zones. The issue of ESZs goes back almost two decades. In 2002, a Wildlife Conservation Strategy was adopted. It talked about protecting the interests of tribals living around protected areas. While the current apex court order mentioned 1 km, the 2002 strategy said: "land falling within 10km.."
State governments weren't happy. They said implementing such a policy would adversely affect human habitation and other important areas if they came under the purview of an ESZ. In 2005, it was back to the drawing board to re-examine the policy. The decision was made to mark ESZs as site-specific and focus on regulation rather than prohibition of activities. This still wasn't acceptable to some. The Goa Foundation filed a PIL in the Supreme Court.
There are a couple of examples of the ESZ area being reduced. The Pulicat Bird Sanctuary spanning northern Tamil Nadu and Andhra Pradesh came under threat as the Environment Ministry proposed to reduce the mandatory ESZ to 2 km from 10 km. There was a plan to build a port there. Another is Punjab's Sukhna Wildlife Sanctuary. The state government wanted only a 100-metre ESZ to facilitate the construction of a Tata housing project.
Kerala has 24 places categorised under wildlife sanctuaries and national parks. Of these, 16 have small towns and human-inhabited areas. Does the idea of a 1-km ESZ make sense? Or is the court's decision faulty and puts people's lives at risk?
VIEW: It's about the environment
In its ruling, the court said ESZs will act as a "shock absorber" for protected areas. Based on the guidelines for this buffer zone, it will protect the fragile ecology of some areas from the impact of human activities. The directive isn't that strict since some activities will be regulated rather than prohibited. The point is, having large-scale infrastructure projects near such areas will have negative impacts.
As far as human habitats are concerned, they don't have to worry. Bennichen Thomas, head of the forest force, said only quarrying, heavily polluting industries, and major hydroelectric projects will be banned. There already exists a 10-km ESZ around forest areas, and farmers haven't been affected. There are also allegations that some organisations have been spreading baseless information against the court's directive.
According to Wayanad Prakruthi Samrakshana Samiti president N. Badusha, people living in ESZ areas haven't faced any issues. He said that previously, many fertile plots of land in Wayanad were bought by rich people and the land mafia. Take the example of Assam. In March, the state cabinet cleared approvals for ESZs to protect animal corridors.
COUNTERVIEW: Unscientific and counter-productive
Not everyone is happy about the court's directive for a 1-km ESZ. A better approach would be to have site-specific recommendations. Topographical features aren't the same everywhere. There's also a problem with the way ESZs around protected areas are discussed. Take the example of Corbett National Park. In their dispatch from there, Neha Pande and AK Sharma outlined the concerns of locals. A buffer zone already restricted activities. They organised themselves under the ESZ Sangarsh Samiti.
In January, the National Green Tribunal (NGT) gave the Union Environment Ministry six more months to finalise eco-sensitive areas in the Western Ghats. It was based on recommendations from the Kasturirangan report. Karnataka Chief Minister Basavaraj Bommai opposed the move. He said locals have taken up eco-friendly agriculture and horticulture. He didn't want another law to disrupt their livelihoods.
The standards for ESZ aren't uniform. As Vikram Rajkhowa, an advocate of the Gauhati High Court, wrote, even when ESZs are declared in some national parks, some red-category (highly polluting) industries were kept outside the boundary, even though they're only 100-500 metres from the park or sanctuary's boundary. At the same time, in the areas where indigenous people have been living for ages, the zone has been extended up to 5-6 km. Who's to say this won't continue?
What's your opinion on this?
(Only subscribers can participate in polls)
a) The Supreme Court's directive on Eco-Sensitive Zones is the right way forward.
b) The Supreme Court's directive on Eco-Sensitive Zones is the wrong approach.
---
🕵️ BEYOND ECHO CHAMBERS
For the Right:
Five Charts That Show How The Protests Against Agnipath Are A Symptom Of India's Unemployment Crisis
For the Left:
Emergency Chronicles: When Ministry Of Information And Broadcasting Became Ministry Of Coercion
---
🇮🇳 STATE OF THE STATES
Gharauni papers (Uttar Pradesh) – Chief Minister Yogi Adityanath said 2.5 crore Gharauni papers will be distributed to people in the state's villages by 2023. Under the Swamitva scheme, the certificates will help identify the rightful owners of properties and help transfer ancestral land. There's a drone survey currently underway in more than 1 lakh villages which will be completed by August.
Why it matters: 34 lakh people have already benefitted from the scheme that was launched in 2020. The scheme is meant to put an end to long-standing property disputes and allow people in rural areas to take bank loans. It would also help the government free land from encroachments, which the state government has already begun.
Entrance test for private universities (Karnataka) – Private universities have decided to oppose the state government's plan for a common entrance test for engineering courses. They expressed their dissent at a recent meeting with the higher education department. The universities have raised logistical issues. There's also the issue of competition from universities from other states. For some private universities, entrance tests can be a branding exercise.
Why it matters: Currently, all private universities in the state have their own entrance tests. They're held on an all-India basis after the Class 12 exams. There's a demand for a single test because students have to take multiple tests paying huge fees. The universities have their own capabilities and a collective exam may not be feasible.
Underage marriages (West Bengal) – Several districts in the state have seen an increase in underage marriages from 2015 to 2020. The recent National Family Health Survey revealed an increase in teenage pregnancies of girls aged between 15 and 19. An official said the state will carry out a widespread awareness campaign. Among the districts that saw an increase is East Midnapore, where Chief Minister Mamata Banerjee is from.
Why it matters: In 2013, the state government launched the Kanyashree scheme to provide financial help for girls pursuing their education. Later, another scheme called Rupashree was launched to provide financial assistance for marriage. Per the government's data, 75 lakh teenage girls have been brought under the Kanyashree scheme. In 2021-22, around 22.8 lakh beneficiaries were included.
Teesta Setalvad detained (Gujarat) – The Gujarat ATS detained Mumbai-based activist Teesta Setalvad in connection with an FIR filed against her alleging a criminal conspiracy, forgery, and providing false evidence in court to frame innocent people. The case has to do with the 2002 Gujarat riots. Her arrest came a day after the Supreme Court dismissed a petition challenging a clean chit given to Narendra Modi in the 2002 riots case.
Why it matters: She has been accused of torturing Zakia Jafri, wife of the slain Congress MP Eshan Jafri who died in the Gulbarg society massacre in 2002. The accusations came during Jafri's cross-examination during the massacre's trial. The FIR said she made up evidence and provided forged documents as 19 witnesses spoke to the Special Investigation Team (SIT) and told them they accepted the documents prepared by Setalvad.
Political merger (Tripura) – BJP ally, the Indigenous People's Front of Tripura (IPFT), will merge with the regional party Tipra Motha ahead of next year's assembly elections. Last year, the Tipra Motha was formed and swept the Tripura Tribal Areas Autonomous District Council (TTAADC) elections. It won 18 of the 28 seats in a direct contest with the BJP-IPFT alliance. TTADC members comprise two-thirds of the state's territory.
Why it matters: The Tipra Motha, headed by the royal scion Pradyot Kishore Debbarma wants a separate state for indigenous people called Greater Tipraland. Tribals make up a third of the state's 40 lakh population. The IPFT has been marred by a factional dispute as eight MLAs resigned from the Assembly.
---
🔢 KEY NUMBER
₹4,447 crores – The deal value that sees Zomato acquiring instant grocery company Blinkit. The food delivery platform wants to capitalise on the growing quick commerce delivery segment.