June 26, 2022
Good morning. Every Sunday, we publish the results of polls from feature stories that were published the past week. We also give a brief overview of the topics that were discussed.
---
🗳️ POLL RESULTS – Week 79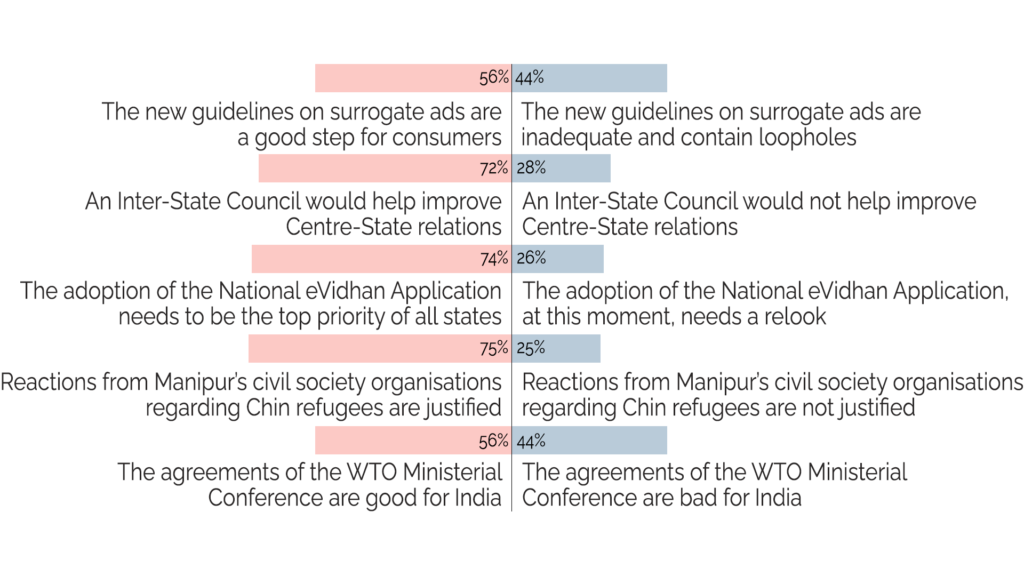 ---
🗓️ THE WEEK THAT WAS
Surrogate Ad Guidelines – Is It A Good Step?
Daily | 20 June 2022
The Centre has introduced guidelines to curb misleading ads, ban surrogate ads and impose strict norms on ads that seek to lure customers with discounts and free offer claims. Is this the right approach? Is it consumer-friendly? Or are the regulations too strict? Read more on this here.
Inter-State Council – Will It Help Centre-State Relations?
Daily | 21 June 2022
Last week, TN CM MK Stalin urged PM Narendra Modi to resume meetings of the Inter-State Council (ISC). Will this put us on the road to better relations, or will it just be something that grabs headlines with no proper outcomes? Follow this story here.
Opting For A Digital Legislature
Daily | 22 June 2022
Right now, the Centre is working on digitising the proceedings of all our legislatures. This includes both Houses of Parliament, the state Assemblies and the Legislative Councils. While the increased accessibility is definitely something to look forward to, the logistics of the programme have drawn quite a bit of flak. We unpack the debate here.
Manipur's Mixed Feelings: The Impact Of A Refugee Crisis
Daily | 23 June 2022
The influx of pro-democracy refugees from Myanmar in the Northeast of India has been a striking reality. While Mizoram accepted the refugees with open arms, the Manipur government chose a more passive approach to dealing with the humanitarian crisis. Read more on this here.
WTO Meeting Outcomes – Were They A Win For India?
Daily | 24 June 2022
While India objected to some proposals in the lead-up to the conference, in the end, it came away with what it claimed were victories. Will the proposals agreed upon actually help India? Find the debate here.
Rights of the Unemployed in India
Know Your Rights | 25 June 2022
The unemployment rate. That's all anybody can talk about right now, and for good reason too. As of the data collected in December 2021, 1 in 5 college graduates in India are unemployed. More highly qualified individuals are either unemployed or in incredibly low-paying jobs. So do the unemployed have any rights in our country? We discuss this here.