November 24, 2022
Good morning. In today's either/view, we discuss whether the Great Nicobar Island project is a necessary one. We also look at the ways in which voters are being wooed in Delhi, among other news.
---
📰

FEATURE STORY
Great Nicobar Island Project – Necessary or Ecological Disaster?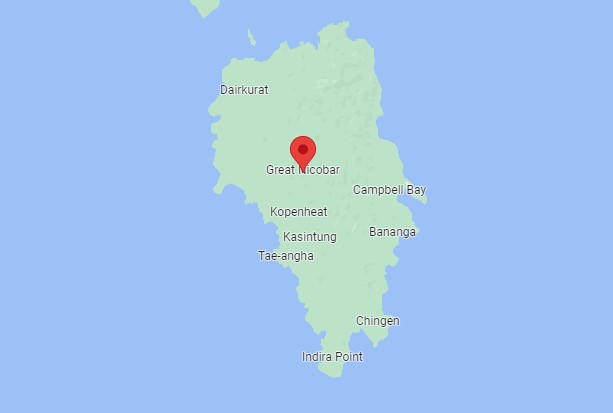 Envisioned by NITI Aayog, the Great Nicobar Island (GNI) project aims to construct a "Greenfield city" on the island in order to promote tourism as well as reinforce national security. But at what cost? The ambitious project has invited criticism from many environmentalists despite being a strategic security move.
Context
Ecologically sensitive areas are challenging when it comes to development. When it is planned at one of India's most strategic places, like the ambitious ₹72,000 crore project in Greater Nicobar Island (GNI), the task is particularly immense. The government recently gave the multi-development project Stage-I clearance; nevertheless, the statutory clearance procedure is surrounded by controversy, especially since the project is located in an environmentally sensitive area.
The project, as proposed by NITI Aayog, consists of a township, solar-powered power plants, a Greenfield International Airport, and an international container transhipment terminal. The area, which is located in the southernmost tip of India, is crucial both environmentally and strategically. The concept of the development of GNI is focused on utilizing the geographic advantage of being on a major international sea route and creating GNI as a sustainable, eco-friendly, and international hub for trade, business, and leisure.
The Indian Navy will be in charge of the port, while the airport will serve both military and civilian purposes as well as tourists. To accommodate tourists, plans have been made for roads, public transportation, water supply, and waste management facilities, as well as a number of hotels. A total of 166.1 sq km have been designated for the project along a coastline strip with a width of between 2 and 4 km along the island's southern and southeast shores. 9.64 lakh trees are anticipated to be cut down as part of a 130 sq km forest diversion plan.
The Great Nicobar Island has coastal plains, mountain ranges that rise close to 650 metres above sea level, and tropical wet evergreen forests. The island is home to 113 species of fish, 71 species of birds, 10 species of amphibians, 26 species of reptiles, and 14 species of mammals, some of which are endangered. The island's signature species is the leatherback sea turtle.
VIEW: GNI project is an ecological disaster
Many environmentalists are concerned about the proposed extensive infrastructure development in an ecologically significant and sensitive region, which would include the removal of about a million trees. They have warned that the loss of tree cover will have an impact on the island's flora and fauna as well as the coral reefs nearby by increasing runoff and sediment deposits in the ocean.
It was made clear that 8,52,245 trees will be cut down for the project, as 130 square kilometres of forest land will be diverted. More than 1,700 people, mostly from the indigenous Nicobari and Shompen communities, will be impacted by the project, and nearly 300 hectares of land will be reclaimed by dredging the ocean. Wildlife, such as the enormous leatherback turtle and the Nicobar megapode, a flightless bird endemic to the Nicobar islands, will lose vital nesting grounds along the shores of Galathea Bay.
Because leatherbacks nesting in the Andaman and Nicobar islands have been satellite tracked to move as far as Madagascar to the west and to the Australian coast to the east, there has also been concern on a global scale.
Others have drawn attention to the irony of the situation and timing: forest and environmental clearances for a mega project in one of the nation's most delicate and vulnerable ecosystems just before a global summit on climate action and even as November 3 was declared by UNESCO as the first International Day for Biosphere Reserves.
The island's sudden, rapid changes will be harmful to everyone's social, economic, and ecological well-being. The current lack of scientific backing, independent voices, and sustainable planning for the major project at the GNI can only have disastrous effects. The valuable biodiversity and beautiful environment of Great Nicobar Island are in danger.
COUNTERVIEW: GNI project provides strategic advantage
Great Nicobar's development was first proposed in the 1970s, and its significance for bolstering regional stability and national security has been emphasized time and time again. This objective has recently taken on a lot more significance as a result of rising Chinese assertiveness in the Indo-Pacific and Bay of Bengal.
Given China's recent aggressive behaviour in the South China Sea, the discovery of its intelligence apparatus in the Indian Ocean, its aspirations to construct military and infrastructural facilities closer to the eastern Indian Ocean, and its relations with Sri Lanka, the project is crucial. Since the project would benefit New Delhi's defence readiness, it takes additional significance.
Additionally, New Delhi must oppose China's Belt and Road Initiative. The way China is building infrastructure in the Bay of Bengal suggests that it wants to have both economic clout and strategic power in the region. According to some reports, China wants to provide its military access to facilities it developed in the Bay of Bengal. Beijing is also pushing to build "dual-use" facilities with both commercial and military applications. In order to tackle this, India would need to expand its military presence, which is also what the GNI project aims to do.
It is no secret that the island requires a great deal of development. The intended start date for development operations is the current fiscal year, and the port is anticipated to be functional by 2027–2028. Over the course of development, the island is anticipated to add more than 1 lakh new direct jobs and 1.5 lakh new indirect jobs.
Reference Links:
What is your opinion on this?
(Only subscribers can participate in polls)
a) The Greater Nicobar Island project is an ecological disaster.
b) The Greater Nicobar Island project provides a strategic advantage.
---
🕵️ BEYOND ECHO CHAMBERS
For the Right:
Tangle in Tawang: It is unlikely that Kiren Rijiju is unaware of Tawang's recent history
For the Left:
Gujarat Assembly Election 2022: Why Harsh Sanghavi embodies Narendra Modi's clarion call for young blood in politics
---
🇮🇳 STATE OF THE STATES
Wooing voters (Delhi) – The Delhi BJP has launched an online campaign called Jisne Diya Mauka, Usko Mila Dhokha, seemingly modelled after the 1990s Bollywood film Taqdeerwala. Some BJP leaders shared comical video snippets attacking the AAP in the municipal elections. The videos attacked the party on its handling of issues like air pollution, education, and the liquor policy controversy. The AAP also is luring voters with music and shows.
Why it matters: Rohit Upadhyay, in charge of social media for the BJP, said the videos have been gaining traction on social media with positive responses. The AAP's response has been to hold more than 1,000 street-corner meetings or nukkad sabhas in all 250 municipalities of Delhi. Campaigning for the polls will end on December 2.
Law for family ID project (Karnataka) – The state government will draft a law to back the Kutumba project. It's a registry of all households with their data. The Vidhi Centre for Legal Policy will help draft the bill. Some are hoping that the bill will have enough safeguards to protect sensitive citizen data. Under Kutumba, every citizen has a unique ID which will form the basis of their interactions with the government.
Why it matters: Currently, there's no legal framework to back Kutumba, and it is running on government orders. The government wants Kutumba to be an integrated platform for payments, grievance redressal, and beneficiary management. It was first rolled out in August 2019 as a pilot. It's similar to Maharashtra's Unified Citizen Data Hub to create a 360-degree profile of a citizen.
Drone and UAV manufacturing (Chhattisgarh) – The state government has signed two MoUs at the 2022 Chhattisgarh Business Summit. One of those is for a drone and UAV production unit. The company that signed on was Daybest Research Private Ltd to set up 4,500 drone and UAV manufacturing units for ₹5 crores. Under the state's new industrial policy, companies and entrepreneurs are given various incentives.
Why it matters: The state has worked with drones before. Earlier this year, Chief Minister Bhupesh Baghel launched the Complete Agriculture Drone Solution initiative, where drones are used to spray the fields in 20 villages. State Commerce and Industries Special Secretary Him Shikhar Gupta said the state has ample power and availability of skilled workers and a friendly SEZ policy.
Kerala model in schools (Maharashtra) – The state has decided to adopt the Kerala model and have exams and continuous assessments for class 3 to 8 students beginning the next academic year. If a student fails or gets low marks, they will be promoted. However, they'll have to appear for a re-exam with the previous year's syllabus. The syllabus will also be changed every 10 years. Officials had been studying education models of various states and decided Kerala's approach was the best.
Why it matters: Some reports have shown that students in the state are lagging behind due to the promotion policy. Per the Kerala model, exams will be conducted every month and quarter with annual practice exams. There'll also be some administrative changes. The 2020 NEP mandates exams for classes 3, 5, and 8.
New power project (Arunachal Pradesh) – Union Power Minister RK Singh assured the state that the Centre would soon approve the ₹32,000 crore investment for the 2,800 MW Dibang hydroelectric project. State and Central officials discussed harnessing the hydropower potential of Arunachal Pradesh. Singh also told Deputy Chief Minister Chowna Mein that Central PSUs would ensure local youth would be employed and get the necessary skills.
Why it matters: Among the discussion points was the Prime Minister's commitment at COP26 on India's net zero goals and adding 500 MW of non-fossil fuel power. The state has the potential to contribute 10% of this through hydropower. Other projects in the pipeline will help attract investments worth ₹5 lakh crores to the state.
---
🔢 KEY NUMBER
$4.4 billion – Amazon Web Services will invest $4.4 billion in India by 2030. The news comes as the company launched its new cloud centre in Hyderabad.