March 7, 2022
Good morning. In today's either/view, we discuss the controversy surrounding IIT Kanpur's model predicting Covid's fourth wave later this year. We also look at why some posters in West Bengal have put the state on alert, among other news.
---
📰

FEATURE STORY
IIT-Kanpur's Model on Covid Fourth Wave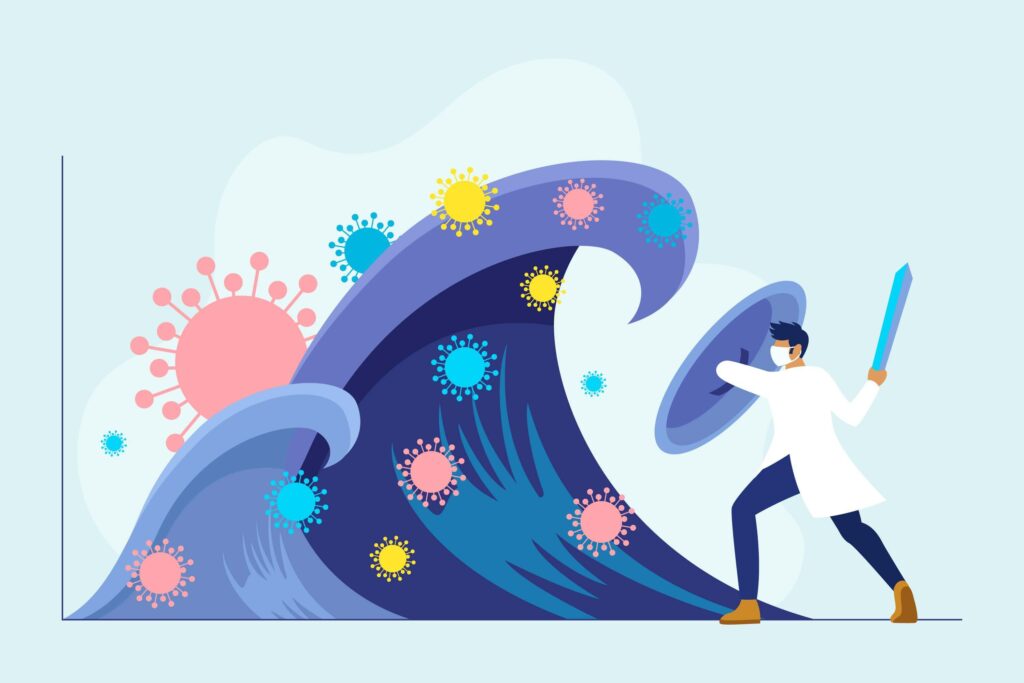 They say grief hits you in waves. Over the past two years, there's certainly been a lot of that going around due to the pandemic. We've had ebbs and flows, peaks, valleys, and plateaus. Everybody wants to get back to some sense of normalcy. However, there's understandable jitteriness on when and how.
The current Omicron wave seems to be on the downswing in India. Vaccines are available to most of the population. Boosters are here for some. If the recent past has taught us anything, it's to not be complacent. So, is this the last of it? Or will there be a fourth wave? According to IIT-Kanpur's recent model, the answers to those questions are no and yes, respectively. It has outlined a model predicting the fourth wave between June and October.
While this can spell doom and gloom all over again, some aren't taking the model at face value. So is the model correct, or does it need scrutiny?
Context
"When will the pandemic end?" It depends on who you ask, which really isn't a good scenario. However, scientists concur that vaccines are our way out of this. It's the best tool at our disposal to fight this virus.
The past couple of years has shown us that the pandemic comes in waves, and a pattern emerges. Cases skyrocket, then lockdowns and restrictions are put in place. Over a period of time, cases slowly started to decline as we contained the spread, and restrictions were eased. This was the story of the first wave.
The second wave had similar beats, except it came as vaccines rolled out. Whether the government's vaccination drive got off to a good or bad start is another debate altogether. This time, a new variant of COVID-19, dubbed the Delta variant, wreaked havoc in India. Cut to the final couple of months of 2021 and another variant, Omicron, came into the picture. It's what we've been dealing with since.
So that's what happened in the past. What comes next? This is where things get tricky. It can be hard to predict. One thing is certain, variants of COVID-19 are likely. It's a question of how deadly they are. By that, it means how transmissible it is and how effective are the current vaccines against it. One way of seeing into the future on this is through models.
Scientific models are obviously not new, nor are they restricted to predicting possible future Coronavirus waves. They have, however, become more prevalent for obvious reasons. Some are more accurate than others for many reasons – methodology, type and source of data used, etc.
The most common method for modelling an outbreak of a disease is the 'compartmental model'. It uses equations to describe the number of people who are vulnerable, infected, or could die at a given point in time. It also accounts for geographical locations and population factors like demographics and density.
Precedence and statistics pave the way
The fundamental basis of the IIT-K model is to study previous waves in India. Using that data, the researchers have modelled the fourth wave in India. As the study notes, it's also based on how waves occurred in other countries. It poses a question – "if the virus is causing the fourth wave in any country, why will it not cause the same in another country if the infection started spreading?" The study cited examples of South Africa and Zimbabwe that have started to face fourth waves.
What's the precedence? The previous two waves themselves are precedents. However, they didn't come out of nowhere. They were the result of variants, as mentioned earlier. Mutations in viruses aren't new nor unexpected. As Stuart Ray and Robert Bollinger of Johns Hopkins stated, all RNA (ribonucleic acid) viruses mutate over time. There can be dozens of variants, most of them harmless. However, some, like Delta and Omicron, can be harmful. Going deeper still, the IIT-K model states that impact can vary depending on the severity of the future variant.
It should be noted that the model does say vaccine efficacy, booster dose coverage, degrees of infection, and other variables could affect the outcome. It doesn't necessarily negate their effects. Hence, models like the one from IIT-K shouldn't be dismissed out of hand. No model is going to be exactly right or completely wrong. The government, through NITI Aayog member VK Paul, said the government does take this model seriously, considering it was done by 'eminent people'.
Not good precedence
First things first, models shouldn't be taken at face value as any sort of accurate predictor. For a model predicting a future wave of COVID-19, there are variables at play – the emergence of variants and people's behaviour, to name a few. They're called variables for a reason; they can change. That's why models are polarising and should be taken with a grain of salt.
The IIT-K model predicts what could happen from June to October, months away. That's a long gap of time for such a model. It would've been better and credible if it made predictions for a week or two ahead. Gautam Menon from Ashoka University stated models are built on existing data, projected for a week or two and the process repeats with refinement as data changes. He also said state-wide models are better than ones looking at India as a whole. Also, the best models are based on previous ones and do not necessarily rely on just past data.
Concerning COVID-19 projections, past efforts don't do this model any favours for credibility. Take these statements of Mahindra Agarwal from IIT-K on predictions of "no second wave in India". Also, the model isn't peer-reviewed. That's a red flag to be noted. VK Paul, commenting on the model, did echo similar sentiments. As with models, it's better to listen to the experts – scientists and medical professionals. Several experts have questioned the long time frame used. Public health expert Bhramar Mukherjee summed up the IIT-K model as data astrology and not data science.
What's your opinion on this?
(Only subscribers can participate in polls)
a) The IIT Kanpur model on a possible Covid fourth wave is reliable.
b) The IIT Kanpur model on a possible Covid fourth wave is unreliable.
---
🕵️ BEYOND ECHO CHAMBERS
For the Right:
Who wants a tough leader?
For the Left:
Why Badhaai Do spoke to a jaded gay man like me
---
🏴 STATE OF THE STATES
Funds for non-working moms (Sikkim) – On Friday, CM PS Tamang said that the state government will be giving ₹20,000 annually to every non-working mother under the Aama Yojana. This will be accompanied by the distribution of free sanitary napkins to all girl students from class 9 and above, as per the Bahini scheme. The only stipulation is that the non-working mother will have to be enrolled in the state's electoral roll.
Why it matters: According to the CM, the Aama Yojana has ₹100 crores allocated to it, and is expected to help inculcate the habit of saving among women of the state. When it comes to the Bahini scheme, there are around 18,000 girls studying above class 8 in Sikkim. The government also plans to launch sensitisation and awareness programmes for menstrual health and hygiene for the young women.
Scheme to boost self-employment (Haryana) – On Saturday, CM Manohar Lal Khattar launched the Mukhyamantri Shato Udyami Sarathi Yojana to boost self-employment in the state. It will enable needy people to become self-employed by providing them access to loans. The scheme will appoint 5 experts as guides for 100 families and will be responsible for spreading awareness about the scheme. The government will also be setting up melas with 6 banks and 20 departments to help families with low incomes access loans and address their queries.
Why it matters: Any family with a monthly income of less than ₹15,000 will be eligible for this scheme. As of December 2021, 160 such melas have already been organised, and more than 11 lakh families have been identified with an annual income of less than ₹1.80 lakh. Another 250 melas across all the districts have been planned till 17 March. According to the CM, around 3.5 lakh people have already benefited from the scheme.
Petrifying posters (West Bengal) – On Friday, the police retrieved around 12 Maoist posters in various Purulia villages threatening to start a movement. The posters featured a 13 point "charter of demands" and said that the movement would start in four Jungle Mahal districts, i.e. Purulia, Jhargram, West Midnapore and Bankura. The demands were addressed to both the Centre and state government and even called for a strike on 1 March. The strike, however, didn't seem to translate very well in person.
Why it matters: This is the second time such posters have been spotted in Purulia, the last time was on 28 February. And, threats of Maoist forces in the district have resurfaced after almost a decade. While police presence in the villages has gone up, the posters demand solutions to local issues. They called for guaranteed work for 365 days every year instead of 100, curbing deforestation, giving land deeds to tribes that have lived there for years, etc.
Reining in the land mafia (Gujarat) – State officials have now been directed to toughen their stance on the "land mafia" that grabs government or private land. Since the enactment of the Gujarat Land Grabbing (Prohibition) Act in 2020, 586 FIRs have been filed by the administration. And, as a result, a total of 2,256 people have been booked for the same. According to their Revenue Minister Rajendra Trivedi, out of the 12,342 land grabbing complaints received, only 818 have been genuine.
Why it matters: According to Trivedi, ₹1,075 crores worth of land has been reclaimed from the land mafia thanks to the new Act. The Assembly even passed the Gujarat Land Grabbing (Prohibition) (Amendment) Bill, 2022, last Friday to deal with the opposition it has been garnering. The new amendment will now protect tribals from penal action if they've applied for land allocation as per the Scheduled Tribes and Other Traditional Forest Dwellers (Recognition of Forest Rights) Act.
Breaking the ice (Karnataka) – On Saturday, the Union Jal Minister, Gajendra Singh Shekhawat, said that they are finally ready to set up talks between Tamil Nadu and Karnataka over the Mekedatu Project. Expressing his support of such talks, he brought up Uttar Pradesh and Madhya Pradesh's talks that led to the two states working together in the Bundelkhand region and in linking Ken-Betwa.
Why it matters: The Mekedatu multipurpose irrigation project was first announced in 2013. It is expected to provide 4.75 thousand million cubic feet of drinking water to Karnataka and generate 400 MW of electricity. Karnataka has planned to construct a gravity dam at Mekedatu for this. Tamil Nadu has opposed this plan as it fears that Karnataka will hoard Cauvery water for itself in this gravity dam.
---
🔢 KEY NUMBER
7 million tonnes – This year, India is expected to export 7 million tonnes of wheat. The closest we've come to this is in the 2012-13 fiscal year when India exported 6.5 million tonnes. The several sanctions on Russia have opened the market up for India to take over.