March 8, 2022
Good morning. In today's either/view, we look at why states are reverting to the old pension scheme and debate whether it is a good move. We also look at how liquid explosives have made a comeback in J&K, among other news.
---
📰

FEATURE STORY
Old versus new pension schemes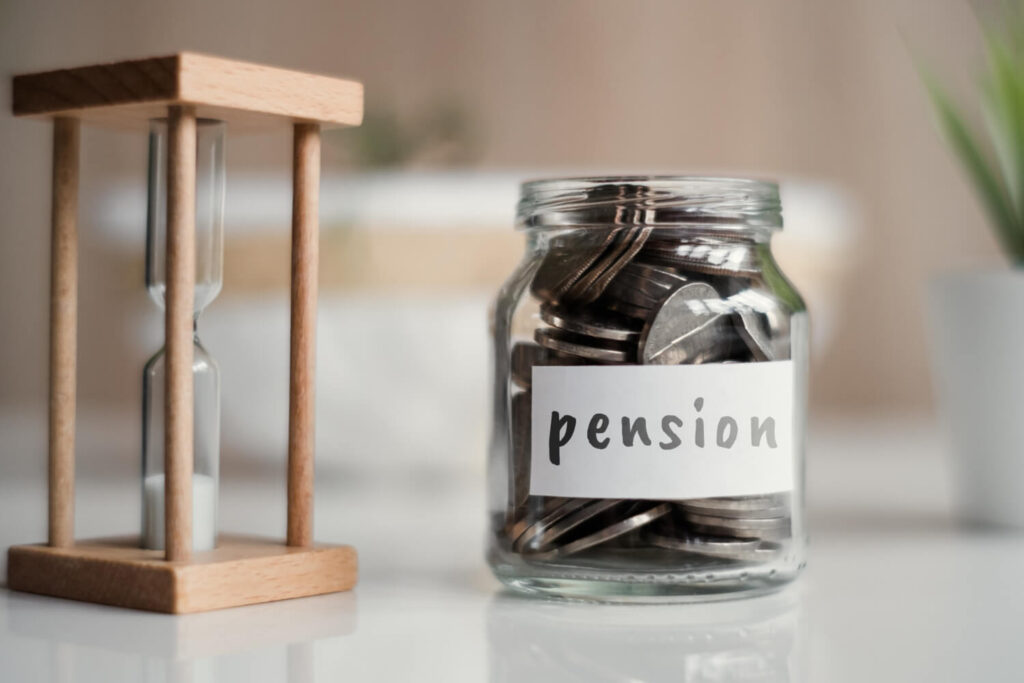 Apparently, the hottest hobby of 2020, existential dread, is considerably common among those facing retirement. With every monumental change, the chance of a crisis gets doubled. And retirement, according to the appropriate greeting cards, is supposed to be the final milestone before the sweet release of Robert Frost's sleep. No wonder the specifics of retirement benefits has become a significant poll plank in the ongoing assembly elections.
After Rajasthan brought back the fan favourite, Old Pension Scheme (OPS), calls for reinstating it in other states have become louder. Considering the government employees' sheer hatred for the National Pension Scheme (NPS), it's easy to see why parties would want to add its repeal to their manifestos. But when it comes to financial stability, the OPS is really out there hurting its own case.
Is the National Pension Scheme really as unstable as they say, or should we simply stick to outing the old before it gets too late?
Context
During Atal Bihari Vajpayee's tenure as PM, the Centre introduced the National Pension Scheme in 2004. It was later implemented by the states from 2005 onwards. This scheme was opted for by the government to control India's then uncontrollable pension debt and reduce liabilities. How? Well, for that, we've got to see what the employee-preferred Old Pension Scheme was.
The OPS was a fixed pension scheme. This means that a retiree's pension was set at 50% of their last drawn salary, with other hikes and benefits. The beneficiary received that fixed amount despite the amount they contributed to their pension while working. The NPS, on the other hand, has been described as "gambling" by various vexed employees.
It is basically a financial product that employees can choose to subscribe to or not. If they subscribe to it, a part of their salary will go into their retirement fund; and that fund can later be withdrawn over some time. A part of it can be taken out as a lump sum, and the rest can be used to get an annuity for a steady income. It's an investment-based system. Something the OPS was practically opposed to.
This change from the OPS to the NPS was opposed from the day it came into effect. Government employees, for the past 17 years, have been protesting it. As of now, Rajasthan announced that it will switch back to the OPS. Chhattisgarh seems to be following suit. The Samajwadi Party in Uttar Pradesh has added it to their party manifesto. Congress even walked out of the Himachal Pradesh assembly for its reinstatement.
OPS: It's just more stable
When a government employee talks about reinstating the OPS, they're basically saying that they want the guarantee of social security during retirement. And frankly, don't we all? Under the old system, a government employee was guaranteed 50% of their last salary once they completed 10 years of service. In case of the employee's death, their family or dependents were given 50% fixed pensions and a dearness allowance. The families were also given economic support called the "Death cum Retirement Gratuity" when the employee retired or suffered an untimely death.
According to employees under the NPS, the new system fails them on both current and retirement needs. The NPS takes their retirement fund and puts them in different investments. While investing is considered a healthy habit, it goes without saying that they are, in fact, subject to market risk. It is impossible to predict the future, and as one can tell, markets are as fickle as lightning. You never know when it's going to crash.
Several retirees under the NPS have also claimed that they never got their pensions. And the ones that did receive them have said that it was nowhere near enough to sustain them through retirement. In fact, the NPS is so fiddly that the National Human Rights Commission and the Comptroller and Auditor General (CAG) Report 13 of 2020 have questioned its efficacy in providing social security. The National Judicial Pay Commission, as of February 2020, even recommended against imposing the NPS on the judiciary.
It doesn't just stop there; the Pension Fund Regulatory and Development Authority (PFRDA) reported that more than ₹1,600 crores of pension funds were lost to the share market. Some even believe that this uncertainty has turned people away from joining the government services. As employee leader from the Public Works Department, Aseef Siddiqi, put it, "We chose to work in the government sector to secure our post-retirement, but without an assured pension, how do we survive post-retirement?"
NPS: Protection from financial ruin
Given the popularity of the OPS, the power of pensions in the polls is quite obvious, but that doesn't make it a practical policy to implement. According to research from the early 2000s, the OPS was only beneficial to top-ranking government officials and was considered an unsustainable system. Internationally, Defined Pension Benefit Schemes (DPBSs) like the OPS are also steadily losing support. In India, the opposition to the NPS seems to stem from a fear of the share market.
Right now, the employees under the NPS give 10% of their pay towards their pension fund. Central employees give 14% of their salary to their pension. The government then matches that amount, and that final total is invested in various government schemes, equities, etc. Usually, a government-backed project or share is generally seen as a more stable option. And because it still is up to the market, the retirees benefiting from this system aren't just the top ones. Of course, a longer tenure could ensure better returns as that's how long term investments in equities work.
When Rajasthan announced its return to the OPS, sure, it was received with quite a bit of revelry from the employees. Financial experts, on the other hand, warn of a grave future. The thing about pensions is that it keeps rising. Rajasthan has about 5.6 lakh pensioners right now. Till the late 2030s, this is expected to rise by 30,000 each year. The state also makes pension contributions to another 5.5 lakh "NPS employees". This number will also annually increase by 30,000. So, this year alone, the state has paid ₹23,000 crores in pensions and made contributions worth ₹29,000 crores. This will grow by 7.5% every year.
While all of this might sound like monopoly money, we assure you it's not. The state might not be looking at imminent financial ruin, but it has made its future murkier. Even when it comes to returns on investment, the NPS has given around 9% every year. This is a better rate than PPFs, EPFOs and even fixed deposits. As the CAG points out, all the problems with the NPS are very fixable. What has happened in Rajasthan is that for a minor uptick in popular opinion today, they have drowned their future generations in unmanageable liabilities. And this goes for the other states and parties looking to implement the same.
What's your opinion on this?
(Only subscribers can participate in polls)
a) The National Pension Scheme is better than the Old Pension Scheme.
b) The National Pension Scheme is worse than the Old Pension Scheme.
---
🕵️ BEYOND ECHO CHAMBERS
For the Right:
From 1962 to Ukraine—three lessons for India's non-alignment policy
For the Left:
Why is Left academia so rattled by Vikram Sampath, Sai Deepak, or Sanjeev Sanyal?
---
🏴 STATE OF THE STATES
Liquid explosives (Jammu & Kashmir) – As the threat of militancy continues to haunt the state and region, liquid explosives appeared to have made a comeback on the battlefield. Recently, a consignment of three bottles of a white liquid was dropped via drone from Pakistan along the international border in Jammu. Chemical samples were taken and sent to a forensics lab with preliminary indications pointing to TNT.
Why it matters: Liquid explosives were last used by terrorist outfits in South Kashmir in 2007 and have not been seen since. Officials said intelligence suggested Pakistan-based terror groups were now using liquid explosives. These can't be detected with conventional sniffer dogs and pose a greater threat. In 2009, security forces recovered 60 litres of liquid explosives from a house in the Baramulla district.
Relocating out of tiger reserve (Tamil Nadu) – Residents of Thengumarahada are split on the decision to relocate out of the Mudumalai Tiger Reserve (MTR). Farmers said they wanted to stay citing they've been cultivating there for generations. Others said they would consider relocating if the government would compensate with housing. According to panchayat president M Suguna, the majority opinion must be accepted. Following this, a report on the matter will be submitted to the Madras High court on March 10.
Why it matters: In April 2007, the state government declared the Mudumalai Wildlife Sanctuary a tiger reserve as per the Wildlife (Protection) Act of 1972. In 2015, a parliamentary committee asked the Centre to look into the implementation of a long-delayed relocation programme. In January this year, the Madras High Court directed a committee to conduct a public forum to hear people's opinions on relocation. Some farmers have taken the land to cultivate cash crops like bananas and sugarcane.
Paradip-Barbil Economic Corridor (Odisha) – Odisha could soon get a Special Economic Corridor from Paradip to Bhadrasahi-Barbil. Chief secretary Suresh Mohapatra said the construction of the corridor needs to be accelerated due to growth in industrialisation in the state and an increase in the number of steel plants. He said the NHAI should commence land acquisition and the state will provide its full support. The route will provide connections from mining areas Barbil to Paradip.
Why it matters: The proposed corridor is expected to be 300-km long and an eight-lane integrated economic corridor. Over the past few years, the state has seen both national and state highways being constructed. Through the state's 30 districts, a total of 5,753 km long 38 NH has passed through. Last month, Chief Minister Naveen Patnaik met with the Union Minister for Road Transport and Highways, Nitin Gadkari urging him to consider the project and extending his government's support.
Clarity on Chinese investments (Maharashtra) – The Maharashtra government has sought the Centre's clarity on investments the state government signed with China worth more than ₹5,000 crores. The state has been waiting for more than 2 years on these as various geopolitical events between India and China have stalled progress. Industries Minister Subhash Desai said the projects are on hold until the Centre gives the go-ahead. He cited the continued policy stance adopted by the state in 2020 concerning Chinese FDIs. He did say the investments haven't been cancelled.
Why it matters: In June 2020, the state signed 12 MoUs worth ₹16,300 crores with major global companies. Among them were with Chinese firms Hengli, Great Wall Motors, and PMI Electro Mobility Solutions. In the wake of the Galwan Valley clash, the proposals were put on hold. The proposals from these companies were for the non-strategic sector. In a pre-budget meeting for 2022-23, a note from the state said despite wanting clarity on the issue, they support the Centre's decision on Chinese investments.
New airport (Arunachal Pradesh) – The state is set to get a new greenfield airport at Hollongi, about 15 km from Itanagar. The new airport is expected to cost ₹645 crores. Being built by the Airports Authority of India (AAI), it will be certified to handle A-321 category aircraft. It will have an energy-efficient building, rainwater harvesting systems, and a sustainable landscape. It's expected to commence operation this August.
Why it matters: Previously, Prime Minister Modi has emphasised transforming the Northeast into a gateway to Southeast Asia. This airport is expected to help in that cause as part of building modern infrastructure. The region doesn't have too many international airports. Last year, Agartala's Maharaja Bir Bikram (MBB) Airport became only the region's third international airport after Guwahati and Imphal.
---
🔢 KEY NUMBER
₹15,000 crores – The amount Microsoft plans to invest for India's largest data centre in Hyderabad. The money will be invested over 15 years.