October 14, 2022
Good morning. In today's either/view, we discuss whether IMF's warning on the global economy is a bad sign for India. We also look at the increase in minimum wages in Delhi, among other news.
---
📰

FEATURE STORY
IMF's Warning On The Global Economy – A Bad Sign For India?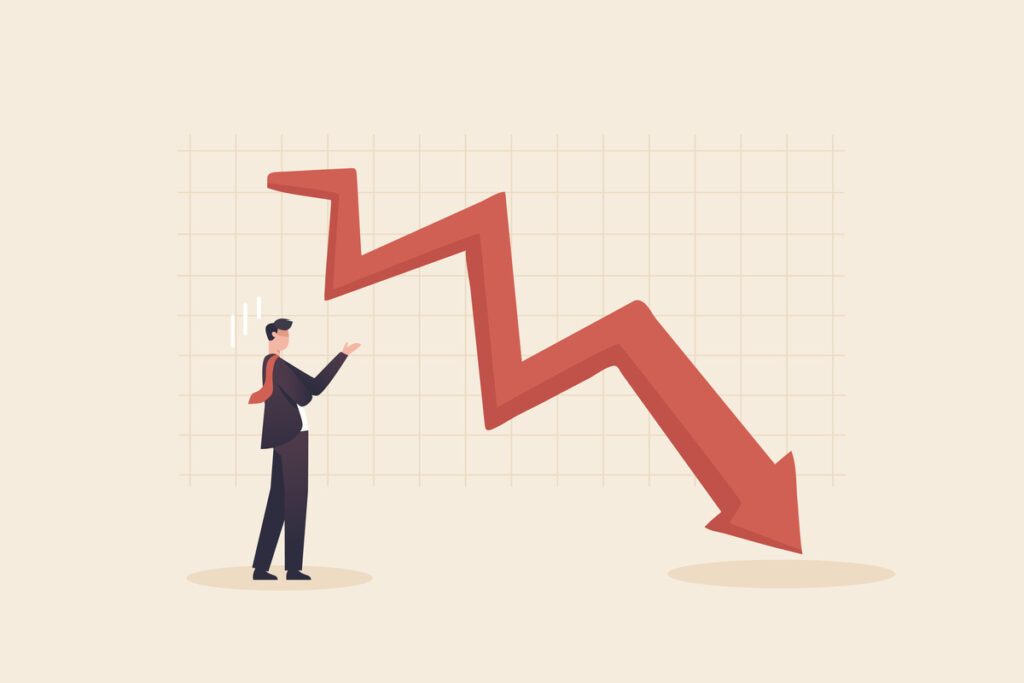 It's a unique time to be an economist or someone who observes or studies the global economy. As countries emerge from the pandemic, there's a lot of uncertainty on their paths to recovery. Then Russia decided to invade Ukraine and threw another wrench into the mix. Inflation is high across several regions. There are concerns about energy prices, global warming, and the list goes on and on.
The International Monetary Fund (IMF), it seems, is sounding an alarm of sorts. They're not too optimistic about the global economy going forward. They've warned of a worldwide slowdown as economies face steep challenges. Some countries might be better off than others, but by how much, we'll have to wait and see. So, does India have to worry? Or do we have a robust economy to weather the incoming storm?
Context
Storm clouds are gathering over the global economy is how the IMF described the situation we're now in. Let's take a step back and assess how we got here. As news came out of China that a deadly virus was quickly spreading, it was already a full-fledged outbreak by the end of 2019.
The virus took hold across countries and continents in a matter of weeks. Countries imposed lockdowns with strict travel restrictions. People began working, shopping, and entertaining themselves from home. The economic fallout was massive. One of the first places people looked to was China. Not just because the virus originated there but because it's the world's factory.
In May 2020, the IMF released a roadmap on what will be needed to end the pandemic and get economies back on track. As they termed it, pandemic policy is economic policy. The economy will begin to heal only when the health crisis ends or is at least under some control. Broadly, the measures were vaccinations when available and widespread testing and tracing. The estimated benefits were about $9 trillion against the $50 billion cost.
Last December, the IMF's assessment was positive, with some caveats. As global recovery continued in 2021, the momentum slowed. They highlighted the growing disparity in recoveries between rich and poor nations. They attributed this to the uneven vaccination rates. By last October's end, 65% of the population in advanced economies were fully vaccinated.
As 2022 began, things took a turn for the worse with Russia's invasion of Ukraine. With widespread global condemnation came swift and crippling economic sanctions on Russia. That was just the beginning. The IMF pointed out that both countries are big commodity producers. They account for 30% of global exports of wheat. Not to mention disruptions in the global energy market.
Now, the IMF has downgraded its forecast to 2.7% for next year. They say the 2023 slowdown will be broad-based. China, the US, and the EU will continue to stall. Let's see where India stands in all of this.
VIEW: India isn't immune
Let's start with some statistics. Specifically for India, the IMF cut its economic outlook from 7.4% to 6.8% for fiscal 2022. That's a significant reduction considering India's economy grew by 8.7% in 2021-22 fiscal. Japanese brokerage firm Nomura is more pessimistic about the Indian economy. It has forecasted a growth rate of 5.2% for 2023-24.
The consensus seems to be that inflation will continue to be a worry for people and policymakers. Another point to note is that India has set a deficit target of 6.4% for FY2023. To achieve that, there might need to be expenditure cuts. To put it simply, India shouldn't spend more than it can earn. Adding to the inflationary pressure is a weak rupee which has breached the ₹80 mark against the US dollar.
In March, the RBI noted that global developments would affect the Indian economy. Disruptions in the global energy market and unsettled financial conditions were headwinds. Another issue India has to deal with is high unemployment. With many people not earning wages, domestic demand will be sluggish. The World Bank also downgraded India's growth prospects. It came ahead of the IMF's most recent revision.
COUNTERVIEW: No need to sound the alarm
While there are valid reasons to worry about the global economy, India doesn't need to press the panic button. As the IMF put it, India is doing relatively well despite what's happening elsewhere. India has been impacted, but the blow has been cushioned. For many countries, it could look like a recession. For India, not so much.
Why is that? The RBI has tightened its monetary policy to keep inflation in check. That might not be the most popular move as it affects consumer demand, but it's necessary. The government has been proactive in attracting capital through FDI. India has also done well in vaccinating its citizens.
China, on the other hand, has gone for a strict zero Covid approach. That decision has weighed down its economy. The IMF's forecast for China is only a 3.2% growth rate for this year. It'll be its lowest growth rate in 40 years. Adding to that is a real estate sector downturn and an uncertain geopolitical situation. What India has going for it, according to the IMF's Chief Economist Pierre-Olivier Gourinchas, is digitisation. He complimented India's digitisation efforts, particularly in financial inclusion. Amidst the global economic turmoil, India, he said, is a bright spot.
Reference Links:
What is your opinion on this?
(Only subscribers can participate in polls)
a) India should be worried about the IMF's warning about the global economy.
b) India need not worry about the IMF's warning about the global economy.
---
🕵️ BEYOND ECHO CHAMBERS
For the Right:
Each Day Brings Some New Horror And Hate. Worrying That Ordinary Hindus Aren't So Shocked
For the Left:
Why Making Veil a Symbol of Religious Identity Won't Do Muslim Women Any Good
---
🇮🇳 STATE OF THE STATES
Increase in minimum wages (Delhi) – The Delhi government has hiked the city's minimum wages, and the new rates are applicable from the beginning of this month. Deputy Chief Minister Manish Sisodia stated that Delhi had the highest minimum wages among all the states in the country. The dearness allowance was also hiked for the unskilled working class.
Why it matters: Due to the rising inflation, this move will benefit numerous unskilled, semi-skilled, skilled, and other employees under the aegis of the Delhi government. Additionally, the minimum wage rates for the clerical and supervisor staff have also been revised at the rate of skilled workers.
CM questioned for non-existent HC building (Nagaland) – Neiphiu Guolhoulie Rio, the Chief Minister of Nagaland, has been pulled up by the Enforcement Directorate (ED) regarding the high court building in Kohima that doesn't exist. The state has withdrawn ₹70 crores so far for its construction. The foundation for the building was laid in 2007, yet the basic structure of the site is barely in place.
Why it matters: Since there is still no high court in Nagaland, cases from the state are still being heard at the Kohima Bench housed in the Gauhati High Court. While other high courts in the Northeast were completed and fully functional in 2013, Nagaland saw no progress.
Peon becomes Assistant Professor at university (Bihar) – 42-year-old Kamal Kishor Mandal has been appointed as an Assistant Professor at the Ambedkar Thought and Social Work department (Post Graduate) at the Tilka Manjhi Bhagalpur University (TMBU). Until recently, he worked in the same department as a peon. However, he pursued his Master's Degree and completed his PhD while working.
Why it matters: In 2020, the Bihar State University Service Commission (BSUSC) announced four vacancies for the post of assistant professor at TMBU. In May 2022, Mandal was appointed as an Assistant Professor in the same department where he used to work as a peon.
Medical colleges will teach 3 subjects in Hindi (Madhya Pradesh) – Three MBBS subjects, anatomy, physiology, and biochemistry, will be taught to first-year students in Hindi. This will be implemented in all 13 government colleges in the state. The government's pilot project will commence in the 2022-23 academic session.
Why it matters: A first in the country, this move will revolutionize the education system. The announcement by the Madhya Pradesh government comes at a time when states have opposed the recommendation of the Shah-led parliamentary panel to make Hindi and other local languages the medium of instruction in higher education institutions.
Biometric attendance mandatory (Telangana) – The Telangana government has mandated Aadhaar-enabled biometric attendance in all higher education institutions in the state. This system will be implemented for recording the attendance of students, teachers, as well as non-teaching staff. This will stand in all universities, government colleges, and aided and unaided private colleges.
Why it matters: Tagged as 'most urgent', the Telangana secretary (higher education) released a memo asking the Commissioner of Collegiate Education to implement this system. It will record students' attendance, their e-pass scholarship, fee reimbursement and so on.
---
🔢 KEY NUMBER
59% – A survey by Tata AIA Life Insurance about Financial Awareness Among Women revealed that 59% of working women do not independently take decisions on their finances.