October 15, 2022
Good morning. Every Saturday, we publish the results of polls from feature stories that were published the past week. We also give a brief overview of the topics that were discussed.
---
🗳️ POLL RESULTS – Week 95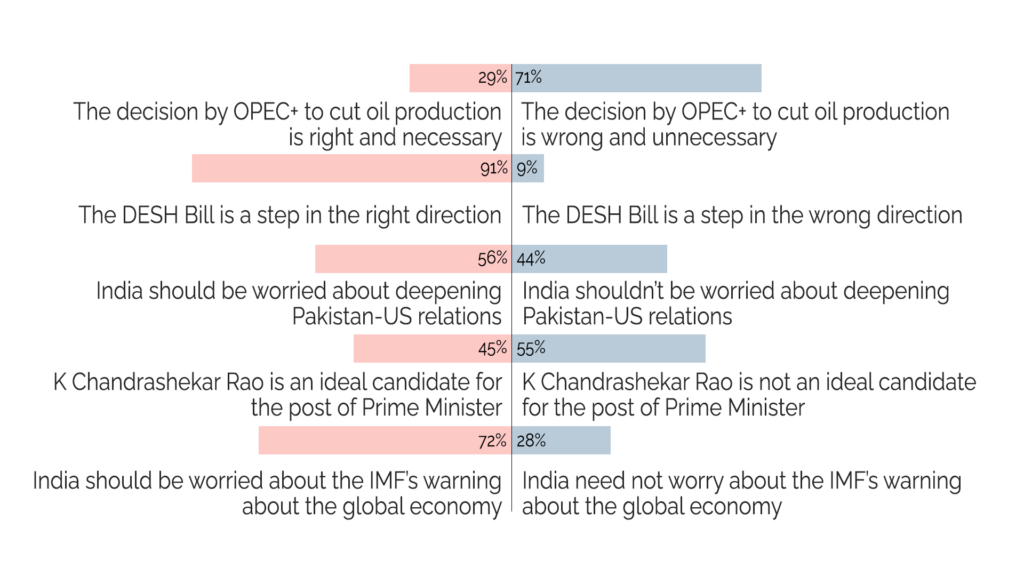 ---
🗓️ THE WEEK THAT WAS
OPEC+ Cuts Oil Production – Will It Have A Significant Impact?
Daily | 10 October 2022
The decision by OPEC+ to cut oil production comes at a significant time. There are multiple economic worries, inflation being the chief among them. The global oil markets are certainly volatile, so doesn't it make sense to stabilise them? Or does this move threaten to disrupt things even more? Read more on this here.
The DESH Bill: A Step Forward?
Daily | 11 October 2022
Since 2006, the Special Economic Zone (SEZ) Act has pushed exports to boost the economy. The recent Budget speech announcement, however, proposed that this Act will be replaced with new legislation, the Development of Enterprise and Services Hub (DESH) Bill. Is the DESH Bill a step forward or merely a change in name? We discuss it here.
Pakistan's Outreach To The US – Should India Be Concerned?
Daily | 12 October 2022
The recent outreach by Pakistan to the US has garnered some attention. It involved the visit by Donald Blome (US Ambassador to Pakistan) to Pakistan-occupied Kashmir (PoK). There's also the F-16 package that the Pentagon announced. Should these developments concern India, given its history with Pakistan in the region? We unpack the debate here.
Is KCR An Ideal PM Candidate?
Daily | 13 October 2022
As Telangana Chief Minister K Chandrashekar Rao launches his own national party, the Bharat Rashtra Samithi (BRS), he is gearing up for the 2024 elections in full swing. Publicly critiquing Prime Minister Narendra Modi, KCR has clearly expressed his intention to take over as a national leader. But is KCR's leadership what India needs? Read more on this here.
IMF's Warning On The Global Economy – A Bad Sign For India?
Daily | 14 October 2022
The International Monetary Fund (IMF), it seems, is sounding an alarm of sorts. They're not too optimistic about the global economy going forward. They've warned of a worldwide slowdown as economies face steep challenges. Some countries might be better off than others, but by how much, we'll have to wait and see. So, does India have to worry? Read more here.