October 13, 2022
Good morning. In today's either/view, we discuss whether K Chandrashekar Rao is an ideal candidate for the post of Prime Minister. We also look at the order allowing people to vote in Jammu and Kashmir, among other news.
---
📰

FEATURE STORY
Is KCR An Ideal PM Candidate?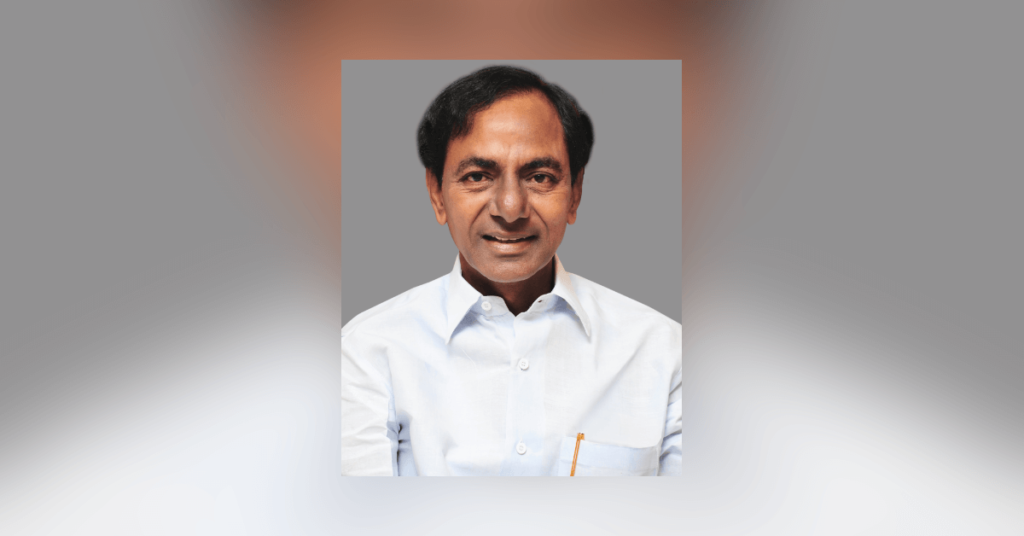 As Telangana Chief Minister K Chandrashekar Rao launches his own national party, the Bharat Rashtra Samithi (BRS), he is gearing up for the 2024 elections in full swing. Publicly critiquing Prime Minister Narendra Modi, KCR has clearly expressed his intention to take over as a national leader.
Not for the first time, a regional party is attempting to go national. But is KCR's leadership what India needs?
Context
In a vehemently Gandhi-esque fashion, K Chandrashekar Rao has carried out his Telangana Movement for 14 years. Vowing peace and non-violence, he has carefully crafted a new identity for Telangana State. The leader and founder of the Telangana Rashtra Samithi (TRS), he is the first chief minister of the 29th state of India, Telangana. He formed the regional party in 2001 and has retained his position as the state CM for a second consecutive term.
Eyeing the 2024 polls, KCR on October 5 announced the renaming of the TRS to BRS (Bharath Rashtra Samithi), an all-India political party. This decision comes at a time when the two dominating parties, Congress and BJP, have lost their federal character. The reign of the BJP over the last eight years, coupled with the rapid weakening of Congress, has exposed a political vacuum and the BRS fully intends to fill this vacuum. While parties like the Janata Dal (United), the Trinamool Congress, the Rashtriya Janata Dal, and others have been in the field for a long time, they have failed to rise above their State-wise character.
Can KCR pose a real challenge to Modi? It is not unknown that their ideas of development are in sharp contradiction to each other. Take the Bills on agrarian reform by Modi, for example. They received widespread backlash and protests, while KCR's endeavours in the same area have not led to any social unrest. The Telangana CM has not shied away from pinpointing Modi's shortcomings. Earlier this year, KCR termed the PM as the weakest and most inefficient leader the country has ever seen against the backdrop of rising fuel prices, hate crimes, rising unemployment, and multiple scams.
As for his political experience, KCR has held many relevant positions. Not only was he a Member of the Legislative Assembly (MLA) from different constituencies, but he has also been a Member of Parliament (MP). He also played a crucial role in the formation of Telangana, spearheading the movement. He began a fast-unto-death strike for 11 days in 2009 until the Government of India declared the process of the formation of the 29th state of the country. KCR also attempted to set up Federal Front ahead of the 2019 general elections along with other regional political parties with an aim to bring a non-Congress, non-BJP alliance to power.
VIEW: KCR is probably what India needs
Telangana was formed amid major ideological adversaries. Despite this divide, K. Chandrashekar Rao did his best to embrace every individual. He called everyone a Telangana Bidda (son/daughter of the soil) irrespective of their religion or language, eliminating alienation. He also initiated some of the greatest institutions in social engineering.
A notable example of this is the Kaleshwaram project, where he ensured the rejuvenation of thousands of lakes under Mission Kakatiya. Through Mission Bhagiratha, he brought tap water to every home in the state. Under his leadership, Telangana's GDP grew more than 2.28 times in the last eight years. The state's per capita doubled, and its agricultural production increased by over 5 times, making it the second-largest paddy contributor to the Food Corporation of India.
Apart from financial gains, KCR spearheaded the movement of empowering the socially backward. He constituted the Rythu Bandhu to benefit farmers and Dalit Bandhu to empower Dalits. He introduced pensions for the aged, thereby bringing about a much-needed socio-economic transformation. He also carried out the Kaleshwaram Lift Irrigation Project, a special project that diverted the path of the Godavari river by lifting water to higher areas with gigantic pumps.
KCR also recently promised to replicate the Telangana model of development across India through the BRS. He claimed that the main agenda for the party would be to uplift farmers, Dalits and the tribal community, thereby implementing his development model across the country.
COUNTERVIEW: KCR is not an ideal candidate
While K. Chandrashekar Rao has been an icon for development in Telangana, his hypocritical tendencies cannot be dismissed. At one of his press conferences earlier this year, the president of TRS flung relentless attacks on PM Modi, calling him out for suppressing dissent and threatening those who question his policies. Upon closer observation, it can be noted that even KCR is guilty of the very same crime.
He attempted to close down the Dharna Chowk at Indira Park in order to prevent opposition parties from conducting dharnas against his government. Opposition leaders such as BJP president Bandi Sanjay and PCC president A Revnath Reddy were arrested while on their way to visit the Indian Institute of Information Technology, Basar, to express their solidarity with agitating students.
The Telangana BJP (TBJP) employed the Right to Information (RTI) in a bid to ascertain the status of various promises made to the people by CM Rao in the TRS's 2014 and 2018 election manifestos. In July of this year, the BJP leaders filed over 100 queries under the RTI to several state departments. Questions regarding subsidies provided to farmers, free houses for the poor and pension benefits for the aged were proposed.
Former minister and senior Congress leader Mohammad Shabbir Ali also pointed out that while KCR accused Modi of destabilising opposition parties, the TRS president has done the same. According to Ali, he gained strength in Telangana by engineering defections in the opposition parties and destabilising them.
Reference Links:
What is your opinion on this?
(Only subscribers can participate in polls)
a) K Chandrashekar Rao is an ideal candidate for the post of Prime Minister.
b) K Chandrashekar Rao is not an ideal candidate for the post of Prime Minister.
---
🕵️ BEYOND ECHO CHAMBERS
For the Right:
Why The Women Of My Family Support RSS But I Don't
For the Left:
From Ayodhya And Kashi To Ujjain: How Modi Is Unshackling The Physical Chains Of Hindu Coloniality And Victimhood
---
🇮🇳 STATE OF THE STATES
Registering to vote (Jammu & Kashmir) – The Jammu administration issued an order allowing tehsildars to provide certificates of residence to people who have lived in the state for more than a year. It's to allow them to be enrolled in the ongoing special revision of electoral rolls. The directive was issued after some eligible voters faced hardships registering themselves since they didn't have the necessary documents.
Why it matters: The revision of electoral rolls is being done to register new voters and remove those who have migrated or died since the last revision. There have been concerns from various political parties, except the BJP, on including non-locals as voters. In August, then-chief electoral officer Hirdesh Kumar said there could be 25 lakh additional voters following the revision.
Opposition to college on heritage site (Telangana) – AIMIM president Asaduddin Owaisi laid the foundation stone for a minority junior college and hostel building at the historic Masjid Kulsum Begum. The move has angered heritage activists. State heritage officials filed a complaint with the Secretary to the government. Following this, officials blocked construction work on the site and filed an FIR. The Waqf Board agreed to spend ₹8.75 crores for the institution.
Why it matters: The Masjid Kulsum Begum, also known as the Kulsumpura Masjid and Jama Masjid Karwan, was built between 1612 and 1626 AD. The monument has been neglected for decades, with cracks appearing on its walls and being taken over by vegetation. Despite a written request by a member of the masjid committee to the heritage department in 2014, no repair or restoration work was done.
Studying sewage water (Odisha) – As cases of Covid-19 continue to decline, the Odisha government is looking out for new variants. The Regional Medical Research Centre (RMRC) will study sewage water in places like Bhubaneswar, Cuttack, and Puri. The RMRC has submitted a proposal to take into account epidemiological analysis and the possibility of an outbreak of any pathogen disease.
Why it matters: In several countries, the novel coronavirus has been found in toilet water that goes through the drainage system. Some countries have begun studying wastewater to detect local outbreaks. People can excrete the virus before they show some symptoms. States like Karnataka and Tamil Nadu have done similar studies in Bengaluru and Chennai.
Health alert ahead of Diwali (Maharashtra) – Ahead of and during the festival season, the state health department has asked citizens to exercise caution over increasing swine flu cases. They've warned people of influenza-like and severe acute respiratory illnesses. They've advised people to avoid crowded public places. All district collectors and health officers have been instructed to monitor patients in their districts. Officials also want to emphasise the importance of vaccinations.
Why it matters: Till October 10, the state has reported 204 swine flu deaths and 3,585 cases. Health officials say this is due to reduced immunity levels and comorbidities, especially for older citizens. In 2019, there were more than 2,200 HINI cases. It increased to more than 3,500 with 246 deaths.
Floods affect thousands in 3 districts (Assam) – A heavy downpour has led to massive floods in the state's Dhemaji, Dibrugarh, and Lakhimpur districts. 46 villages and more than 33,000 people have been affected, according to local officials. Six relief distribution centres were opened to provide relief to people, including more than 8,300 children. An embankment at Naoboicha in Lakhimpur was damaged, and there are reports of erosion in several places.
Why it matters: The Brahmaputra River flows above the danger level in the Jorhat district. For the next two days, the Regional Meteorological Centre in Guwahati has forecast rain with thunderstorms across 21 districts. Like in years before, the state saw one of the worst deluges in May and June this year. Floods and landslides killed about 200 people. Home Minister Amit Shah said the state government would look into including more flood moderation storage reservoirs along with the hydro projects in the state.
---
🔢 KEY NUMBER
6.8% – The IMF slashed India's FY2023 growth forecast to 6.8% from its July estimate of 7.4%. It cited weaker-than-expected second-quarter growth. Despite this, India will remain one of the fastest-growing big economies in 2022 and 2023.