July 27, 2022
Good morning. In today's either/view, we discuss whether India's defence spending and R&D are adequate. We also look at the increase in MSMEs in Kerala, among other news.
---
📰

FEATURE STORY
India's Defence Spending And R&D – Are They Adequate?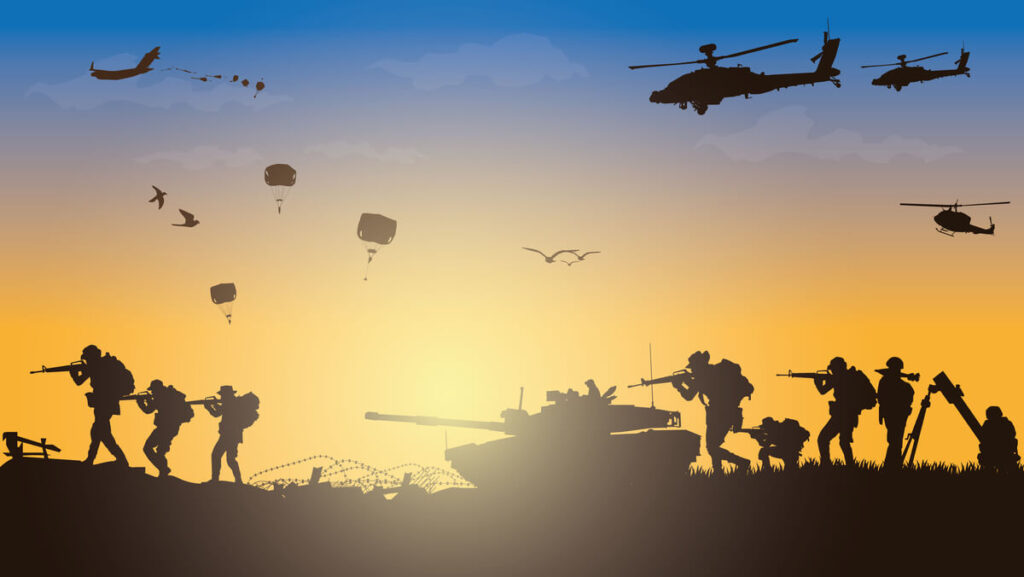 As the conflict in Ukraine continues, countries have been forging alliances (new countries potentially joining NATO), and some have supplied Ukraine with arms. Closer to home, India has a couple of military/diplomatic challenges of its own, though not necessarily as serious as the invasion faced by Ukraine.
Arguably, Pakistan and China pose the greatest national security threat to India. India has had high-profile confrontations with both nations over the decades, with losses on all sides. What has always been a topic of discussion is India's military readiness. The base of that is how much India spends on the military. This includes equipment and research and development (R&D).
Context
Let's take a global view first to set the stage. According to the Stockholm International Peace Research Institute (SIPRI), military spending reached an all-time high of $2.1 trillion in 2021. The top 3 spenders were the USA, China, and India. Next up were the UK and Russia. These five countries alone made up 62% of worldwide military spending.
Like many countries, India has a defence budget. That involves allocating money for the army, navy, and air force. It also includes ordnance factories, R&D, and pensions. For unofficial expenditure, there's the Central Armed Police Force that looks after border security. However, many countries, including India, face a fundamental challenge – allocating adequate resources for defence against healthcare, education, agriculture, and infrastructure.
Earlier this year, Finance Minister Nirmala Sitharaman allocated ₹5.25 lakh crores for India's defence budget. It's an increase from last year's ₹4.78 lakh crores. It'll be used to buy fighter jets, new weapons, warships, and other equipment. When she presented the numbers, Sitharaman said the government is committed to reducing imports and promoting self-reliance. The government wants to keep things local.
One of the challenges India's military industry faces is keeping up with technological changes. Civilian technologies have outpaced the military, especially in electronics and software. Previously, military technology used to be applied in the civilian sector. Now the reverse is happening. For example, commercial off-the-shelf (COTS) components have often become a standard fit in military weapons, and there has been no compromise.
For R&D, India has the Defence Research and Development Organisation (DRDO), established in 1958. It's the premier entity charged with military R&D. With dozens of labs, the teams develop defence technologies for aeronautics, electronics, land combat, naval systems, and missiles.
India's national strategy should be in line with its defence plans since the latter often used niche technologies. For example, ISRO developed space technologies for civilian purposes in the beginning. Now, the Indian military is one of its important beneficiaries. Another aspect we need to discuss is the government's push for Atmanirbhar Bharat Abhiyan. How self-reliant can Indian become in terms of military spending? Is it being used properly?
VIEW: Yes, we've got all bases covered
According to the 15th Finance Commission, overall defence spending as a proportion of total government expenditure has varied between 15.5% and 17.8% from 2011-12 to 2020-21. Capital expenditure on defence for the same period has varied between 23.8% to 31.8%. While there's often a narrative that defence budget allocations should be around 3% of GDP, there's no rationale for it.
The way to look at defence spending isn't just the amount of money allocated but in terms of mitigating threats. This includes capacity creation and modernisation. This year's defence budget was increased against the backdrop of multiple security developments. Among them is the border stand-off with China's People's Liberation Army (PLA) in Ladakh. The government also reorganised the Ordnance Factory Boards (OFB) into seven public sector units to achieve efficiency in producing arms and ammunition.
As Bhartendu Kumar Singh of the Indian Defence Accounts Service wrote, according to SIPRI, India's defence spending is credible given the global economic circumstances. Even a 0.9% increase in spending is significant, given defence expenditure is slowly picking up pace in Europe due to NATO's commitment to Ukraine. Looking at the decade, India saw an increase of 33%. Only China was higher at 72%.
COUNTERVIEW: How's it being used though?
There isn't a singular definition of what constitutes a defence budget. Apart from the obvious, one important component is pensions. It's something the government has begun including in its official submissions. It's seen as a deviation from the conventional definition in response to perceptions of inadequate defence spending.
The Ministry of Home Affairs (MHA), which is responsible for domestic security, faces periodic shortages like an 18% shortfall in its 2021-22 police budget. This has led to an anaemic state of intelligence and police services according to security experts. While not exactly a fair comparison, China spends more on internal security than external defence. In India, this year's defence budget is nearly three times that of the MHA's.
Over the years, the defence ministry has not done much to maximise its allocated budget. The personnel cost has increased from less than 50% to more than 60%. It's eaten into modernisation and equipment maintenance expenses. Coming back to China, India faces a threat in the Indian Ocean with China's expanding naval force. However, the navy gets the smallest piece of the pie, and they've been constrained. Experts say India needs a 200-ship fleet. China already has more than 350 warships which is more than the US. While more money is needed, the ministry of defence should also cut down on excessive personnel-driven budgets. It's a long-term issue.
What's your opinion on this?
(Only subscribers can participate in polls)
a) India's defence spending and R&D are adequate.
b) India's defence spending and R&D are not adequate.
---
🕵️ BEYOND ECHO CHAMBERS
For the Right:
Anti-Romeo Squads, Operation Durga: How The BJP Subverts Women's Rights While Policing The Streets
For the Left:
'Indira Ji Ki Bahu Hoon': Why Sonia Gandhi Believes She Is Above The Law
---
🇮🇳 STATE OF THE STATES
14th Housing Project (Uttar Pradesh) – The state Real Estate Regulatory Authority (RERA) will kickstart its 14th housing project which previously couldn't be completed within the registration period. The remaining development work of the Utopia Estate housing project in Ghaziabad is expected to be completed by December 2023. The decision was taken after more than 95% of the members of the association of allottees consented.
Why it matters: The project was launched in 2016 by Sai Adhiraj Land and Promoters Pvt Ltd with a completion date of March 2022. However, only 40% of the work was done. The regulatory authority has placed strict conditions on the promoter for its competition. The RERA stated that ₹65 crores could be raised from the 136 unsold units.
Increase in MSMEs (Kerala) – During the first quarter of the current fiscal, more than 42,000 MSMEs were registered in the state. In the whole of the previous financial year, Kerala had only 17,300 MSMEs registered. It's prompted the government to re-evaluate its target from 1 to 1.5 lakh MSMEs by the end of 2022-23. The state is nestled between the Western Ghats and a coast on the other, so the only option is to grow vertically. The state is on track to have at least 1 lakh MSMEs this fiscal.
Why it matters: The government decided to give non-IT startups the same exemptions that IT ones enjoy. Some even get discounts with 10 acres of land and a ₹3 crore grant. Kerala IT Parks CEO John M Thomas said the global digital commerce space is expected to be worth 4 lakh crores by 2030. Last month, the state had the Vyapar 2022 B2B meeting for 350 entrepreneurs.
New tourism plans (Jharkhand) – The state has a new tourism policy launched by chief minister Hemant Soren. He also launched a four-part special promotional audio-visual series titled 'Postcards from Jharkhand' that will air on the National Geographic Channel. He said the tourism sector in the state is still untapped and wants to kickstart its recovery. He urged investors to look to the state for their ventures saying the government will provide them with incentives and special packages.
Why it matters: The policy will involve the beautification of sites like Deoghar, Parasnath, Madhuban, and Itkhori. It'll also elevate religious tourism with religious tourist units. There'll be food festivals, interstate cultural exchange programmes, and conferences to showcase the state's culture. Any company that wants to set up tourism units will be given financial incentives.
Monitoring LSD outbreak (Gujarat) – The Centre is monitoring an outbreak of lumpy skin disease (LSD) in cattle in the state. The disease has been reported in at least 14 districts with more than 1,000 cattle dead and more than 36,000 infected. The Centre has asked the state government, the Gujarat Co-operative Milk Marketing Federation (GCMMF), and milk unions to vaccinate cattle on a mass scale. 16 lakh vaccines have been arranged by the GCMMF.
Why it matters: The disease hasn't spread to animals in parts of the state where vaccination drives were conducted. The mortality rate is currently less than 1%, and those that died had co-morbid conditions that weren't given the right treatment. The disease likely spread from Maharashtra and Rajasthan. Last year, cases were reported in south and central Gujarat.
Japanese Encephalitis outbreak (Assam) – As the state continues to recover from the devastating floods, there's an outbreak of Japanese Encephalitis (JE) in 17 districts. Between July 1 and 24, 39 people died of the disease. On July 22 alone, 15 new cases were reported. The total count is now at 252 since July 1. Among the districts worst affected are Golaghat, Sivasagar, Dibrugarh in the north and Barpeta, Nalbari, and Baksa in the south.
Why it matters: The state is currently in the transmission season for JE cases. Floods and high temperatures have aggravated the situation. Every year, between June and August, the state sees a rise in JE cases. The state sees an average of 150 JE deaths every year. In 2020, 318 cases were reported and 51 deaths. In 2019, there were 642 cases with 161 deaths.
---
🔢 KEY NUMBER
₹10.7 trillion – The amount owed to MSMEs till the end of 2021. It was among the sectors worst hit by the pandemic. The delays are from the government, private consumers, and PSUs.