June 15, 2023
Good morning. In today's either/view, we discuss whether the Global Slavery Index (GSI) is reliable. We also look at the demand for railway connectivity between Tripura and Myanmar, among other news.
---
📰

FEATURE STORY
Is the Global Slavery Index (GSI) reliable?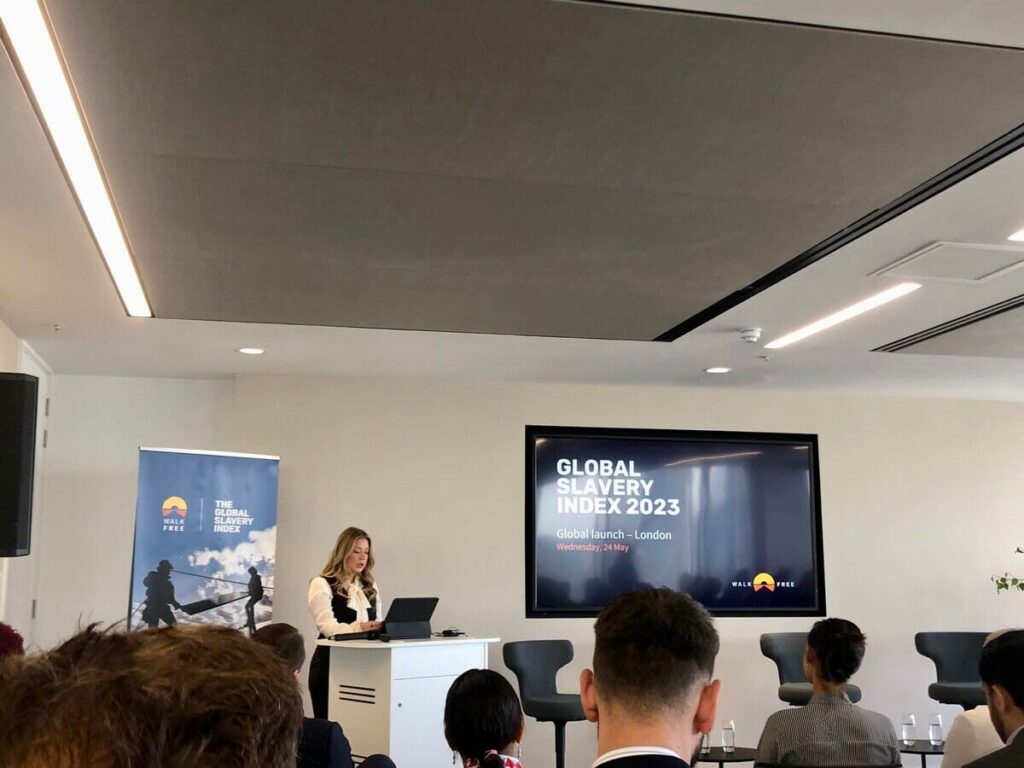 Slavery, as we used to know it, has changed and evolved over time. Nowadays, it's hidden in plain sight and in our everyday lives. It's people being forced or coerced into situations where they're exploited, and escaping it could prove costly. In the modern data-filled world, we need a way to measure this to tackle it.
The Global Slavery Index (GSI) is often seen as the primary tool to do just that. The 2023 Global Slavery Index was released recently, and the results were shocking – 50 million people worldwide living in conditions described as modern slavery. However, some have questioned whether the GSI is accurate and if its methodology is sound.
Context
Let's begin with the definition of modern slavery. It's easy to think about slavery as a thing of the past, like the Transatlantic slave trade, with people in shackles and being transported in ships. Modern slavery is defined a little differently depending on who you ask. However, it all boils down to this – a person is exploited by others for personal or commercial benefit, and where they lose their personal freedoms.
That's a relatively broad way of putting it, but it needs to be. As the world became more industrialised and the nature of work evolved, what constitutes slavery did too. A person working involuntarily and under the menace of violence is commonly known as forced labour. It's also a form of modern slavery.
In recent decades, human trafficking has also come under the definition of modern slavery to shine a spotlight on people living in conditions against human dignity. There are also forced marriages that have been included.
Women and girls comprise the majority of modern slavery victims. Children make up a significant amount too. If we look at how this plays out in the real world, it's the people who clean houses, make clothes in sweatshops, and pick the fruits and vegetables we eat.
Slavery is big business. Some estimates say slavery generates about $150 billion every year. More than a third of that comes from developed countries. Thanks to advancements in technology and communication, those who indulge in the slave trade make a lot of money. Migration feeds into that. People forced to flee countries due to war, persecution, or climate change are among the most vulnerable.
Article 4 of the Universal Declaration of Human Rights states that no one shall be held in slavery and that slavery and the slave trade shall be prohibited in all forms. The obvious question is, what can be done about it? The first step is to figure out how prevalent modern slavery is, where it occurs the most, and the numbers. Gathering that data is easier said than done.
One of the many organisations that have undertaken this task is Walk Free. The international human rights group works toward the eradication of modern slavery. The idea came from billionaire philanthropist Andrew Forrest who staked his reputation and an undisclosed sum of his personal wealth to eradicate modern slavery. How does one do that? Bill Gates advised Forrest to quantify the problem.
Thus came the Global Slavery Index (GSI) to give people an idea of modern slavery through numbers. The first report was released in 2013. Its most recent report showed 49.6 million people in modern slavery. That's an increase of 10 million from 2016.
Some have cast doubt on the GSI. Should it be taken as the token measurement for modern slavery? Or is it inaccurate?
VIEW: The data and methodology is sound
Putting a number on modern slavery is a tall order. Gathering data from across the world using different sources is tricky. The first step is defining modern slavery since we must know what constitutes it. Walk Free rightfully points out that modern slavery isn't explicitly defined in law. It's an umbrella term with several activities under it. It includes legal concepts like forced labour.
There's no single source of data that's suitable to measure all forms of modern slavery. Walk Free uses several sources, three to be precise – national representative surveys, the Counter-Trafficking Data Collaborative (CTDC) dataset, and comments from the International Labour Organisation (ILO) on state-imposed forced labour. That final source is crucial. Since people in prisons, labour camps, and institutional settings aren't sampled, the GSI uses validated secondary sources and ILO comments concerning forced labour.
When the index was launched, the methodology was developed with input from an independent and international Expert Advisory Group. The index has more than 17,000 data points. This includes dozens of verified surveys and thousands of personal accounts. One of the crucial parts of the GSI was to use trade data to identify products at risk of being produced by modern slavery. This can give governments and businesses insight into how to respond.
COUNTERVIEW: Not so robust
Bandana Pattanaik from the Global Alliance Against Traffic in Women (GAATW) said, while the authors of the index have good intentions, they end up depoliticising the issues and become a distraction from real problems. One of the issues with the index is what Walk Free mentions, the definition of modern slavery. There's no internationally agreed-upon definition. How can you then have a reliable and universal calculation?
One of the most talked-about shortcomings in presenting numbers on issues like forced labour or human trafficking is the availability of hard data. That's to say, it's not easy to find. It's easy to know millions of people are exploited worldwide, but it's hard to find, let alone quantify. It all goes back to defining modern slavery. Walk Free themselves have changed that definition from year to year. So, comparing GSI reports becomes challenging. Even the ILO, which tackles forced labour, has been open about the difficulties in sourcing and calculating forced labour.
The report not only provides numbers but it gives information on how countries are handling modern slavery. There was some inconsistency here. The GSI report mentioned the UK has the strongest response to modern slavery, but later it stated the UK's overall response has declined since 2018. In the past, the GSI has been criticised for its limitations, sources, and methodology. Broadly speaking, the GSI isn't a good tool to offer the nuanced analysis needed to dictate policy. For something as serious as slavery, there needs to be some level of accuracy and competency.
Reference Links:
What is your opinion on this?
(Only subscribers can participate in polls)
a) The Global Slavery Index (GSI) is reliable.
b) The Global Slavery Index (GSI) is not reliable.
---
🕵️ BEYOND ECHO CHAMBERS
For the Right:
In India, World's Internet Shutdown Capital, Blockades Undermine Livelihood, Food Security, Human Rights
For the Left:
When it comes to monkeys, Ayodhya model will succeed where Delhi failed
---
🇮🇳 STATE OF THE STATES
Aapda Mitra (Haryana) – On Tuesday, Dushyant Chautala, the Deputy Chief Minister of Haryana, announced that each village in the state will be equipped with an "Aapda Mitra" or disaster volunteer. They will assist people during times of calamities. Dushyant, who is also responsible for the Revenue and Disaster Management Department, mentioned that a registration portal for these volunteers will be launched soon. The state government has requested the establishment of a National Disaster Response Force (NDRF) battalion in Hisar, to ensure swift aid during emergencies.
Why it matters: In 2014, the Centre distributed a manual on disaster management to all states. The Haryana government has addressed several issues outlined in it, and the remaining tasks will be completed by December 2023. The Deputy CM has also asked the Centre for the establishment of a joint command room in Chandigarh, involving Haryana, Punjab, and Himachal Pradesh, to enhance earthquake forecasting in the Kangra seismic belt.
Green man goes global (Kerala) – Veteran cinematographer and documentary filmmaker VK Subash stumbled upon a video on YouTube a few years ago featuring Balan of Palakkad, a man in his 70s who has dedicated his life to afforestation. It sparked a fire within Subash, a nature enthusiast and he has now released his latest creation, "The Green Man". The 37-minute documentary depicts the life of Kallur Balan, fondly known as the Green Man from Kallur, Palakkad district.
Why it matters: The village was once barren. For the past 23 years, Balan has committed every single day to planting and nurturing over 30 lakh tree saplings, which have now matured into magnificent trees. The film also throws light on global warming and environmental hazards caused by unchecked consumerism.
Rural poll clashes (West Bengal) – Violence erupted during the nomination filing for rural polls in Bhangar, South 24-Parganas, between supporters of Trinamool Congress and the Indian Secular Front (ISF). Both sides sustained injuries when ISF supporters were allegedly attacked by Trinamool goons. The ISF accused Trinamool of preventing nominations, while Trinamool MLA Saokat Molla claimed the violence was orchestrated by the ISF MLA Nawsad Siddique to disrupt a mass outreach program.
Why it matters: The police pointed to the severity of the violence in the Bijoygunge Bazar area. It involved stone pelting, gunfire, and vandalism of vehicles. The police initially retreated but later used tear gas and baton charging to disperse the mob. Fourteen people were arrested, all from the ISF party, which accused the police of favouring Trinamool. A crude bomb was also discovered in the SUV of Trinamool leader Hakimul Islam, blamed on Nawsad's associates by Arabul Islam, his father.
Derecognised and partially demolished school (Madhya Pradesh) – On June 2, the Ganga Jamuna High School in Damoh was derecognised amidst pending investigations over cases of alleged religious conversions and enforcement of the hijab on school students. On June 11, the school principal Afsa Sheikh and two others were arrested. Two days later, municipal officials appeared with the police in complete riot gear to demolish some school structures constructed without permission.
Why it matters: While all this occurred, parents of students at the high school were distraught. The Ganga Jamuna High School is allegedly Damoh's Futera ward's sole English-medium school. On Tuesday evening, 50 students and parents gathered to protest near the barricades. During the bail hearings, the court asked why the case was necessary when the district collector had already cleared the school.
Railway connectivity with Myanmar (Tripura) – The Centre of Indian Trade Unions's (CITU) state unit wants the government to revive an old railway connectivity project that would establish a direct railway link between Tripura and Myanmar. It was sent to the Ministry of External Affairs for approval when the Left Front was in office, and reportedly received its praise. The railway ministry examined it for a while without any discernible development.
Why it matters: The project would link Tripura with six Asian countries since Myanmar is already connected with them through rail. Its design took into account the railway ministry's directives. Since a railway link with Bangladesh is already in the works, connectivity with Myanmar could improve the state's economic prospects.
---
🔢 KEY NUMBER
6,500 – The number of High Net Worth Individuals (HNWIs) who will migrate from India this year. India is second only to China in millionaire outflows.