April 10, 2022
Good morning. Every Sunday, we publish the results of polls from feature stories that were published the past week. We also give a brief overview of the topics that were discussed.
---
🗳️ POLL RESULTS – Week 68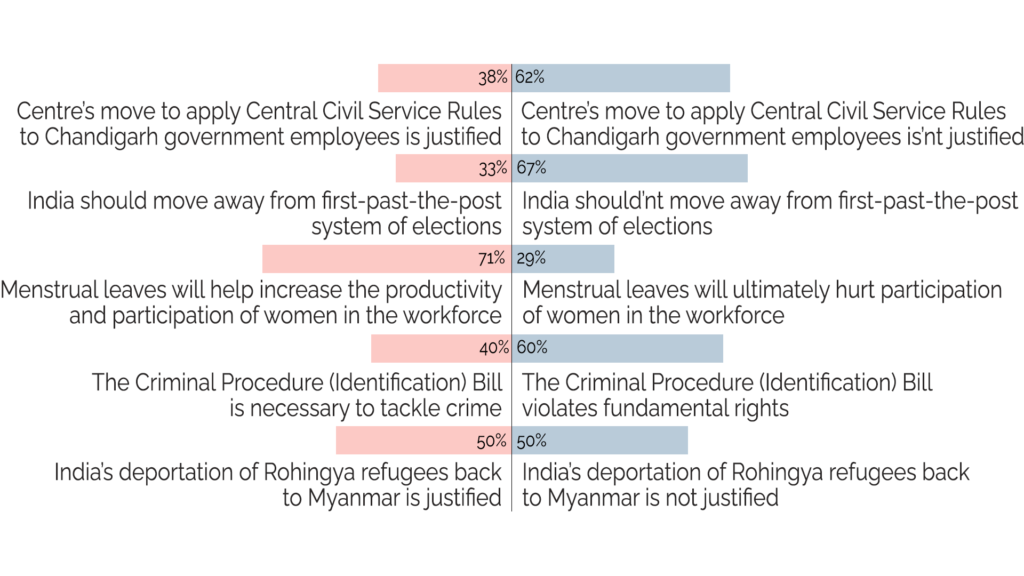 ---
🗓️ THE WEEK THAT WAS
Understanding the Civil Service Changes in Chandigarh
Daily | 4 April 2022
The Centre said that the Central Civil Service Rules will replace the Punjab Service Rules for employees under the Chandigarh administration. Punjab didn't like that one bit and alleged that the Centre was trying to push the state into a corner. The State Assembly even passed a unanimous resolution reiterating their claim over Chandigarh as the capital, effectively dragging Haryana into this mess. Follow this debate here.
Should India ditch the first-past-the-post electoral system?
Daily | 5 April 2022
There's been some contention that India's current electoral system, i.e., the first-past-the-post-system (FPTP), allows for an artificial majority. Does it handicap minority voters, parties, and candidates? Is it time to do away with this and switch to a proportional representation system? We look into this here.
What's the deal with Menstrual Leaves?
Daily | 6 April 2022
For the past 5 years, Congress MLA Ninong Ering has been pushing for menstrual leave legislation in India. In 2017, he brought it up in the Lok Sabha as a private member's bill, but that didn't really go anywhere. So this time, he took it to the Arunachal Pradesh Legislative Assembly, which also turned him down after calling menstruation a "dirty thing". We decode this here.
Criminal Procedure (Identification) Bill – Safety versus Privacy?
Daily | 7 April 2022
The Criminal Procedure (Identification) Bill allows for biometric data of criminals and the accused to be collected and stored for reference. The Bill was passed by the Lok Sabha. The government said it was a necessary upgrade to tackle new-age crimes. The opposition and others claim it goes too far. Find both sides to the story here.
Debating Deportation: The plight of Rohingya refugees in India
Daily | 8 April 2022
India has not signed any of the major international declarations on refugee rights. Neither do we have a proper refugee policy to safeguard their interests. For the most part, Rohingya refugees get tagged as "illegal immigrants" and put in a holding centre in Jammu, only to be deported back to Myanmar later. Read more here.
Rights of a Witness in India
Know Your Rights | 9 April 2022
Usually, there are 3 types of witnesses – an eye witness, a character witness and an expert witness. An eye-witness is one whose testimony relies on what they saw take place, and they simply go over the facts of an incident. A character witness attests to the good or bad character of the accused. And finally, an expert witness brings facts or questions on fields that the judge might not be aware of but is imperative to the case. Read all about the rights of these witnesses here.