May 15, 2022
Good morning. Every Sunday, we publish the results of polls from feature stories that were published the past week. We also give a brief overview of the topics that were discussed.
---
🗳️ POLL RESULTS – Week 73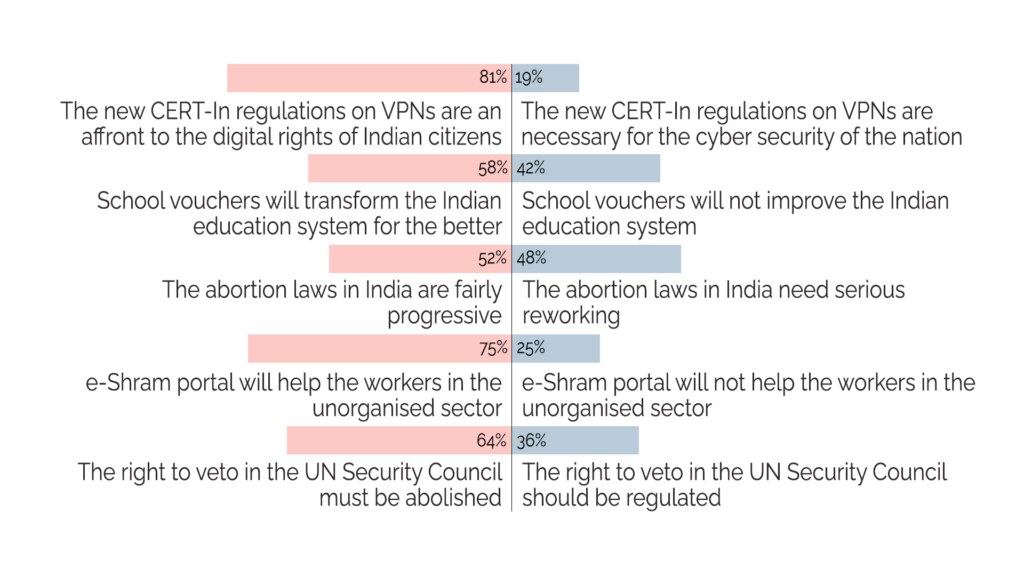 ---
🗓️ THE WEEK THAT WAS
The Questions Around VPN Control
Daily | 9 May 2022
After debating over banning them entirely, the Indian government has come up with what they believe is a more conducive set of rules. As long as a VPN provider agrees to maintain user data for 5 years, they will be allowed to function within the country. The problem with this is that it directly goes against the very objective of the service. Read more on this here.
Can School Vouchers Improve Education In India?
Daily | 10 May 2022
Putting aside the demand and supply issues, India's focus has long been on quantity, not quality. Can the introduction of a voucher system bring in the necessary changes in education? Or will it promote unnecessary competition and leave behind millions? Follow this debate here.
Abortions In India: A Right Or A Privilege?
Daily | 11 May 2022
In 2021, the Centre amended our abortion laws, and people are still divided over it. From one angle, the changes look progressive – the time limit for a termination went up, and the law became more inclusive. Yet, once you move in a little closer, the cracks start showing, and the right to choose still remains a myth in the subcontinent. We unpack the debate here.
e-Shram – Success Or Failure?
Daily | 12 May 2022
Through the e-Shram portal, the government wants to bridge the gap in unorganised workers' ability to access social welfare and employment benefits. Has the portal been a success so far? While it has helped bring many in the unorganised sector on board, some say it's an incomplete product. Read more on this here.
Appraising the UN Security Council's Right to Veto
Daily | 13 May 2022
Since the end of the Cold War, the debate over veto reform has been a regular contestant in General Assembly sessions, but people simply cannot see eye to eye on this. One group acknowledges the importance of a veto in maintaining stability in the international realm. But the others have begun to notice some sinister patterns of its use that need immediate attention. Find the details here.
Right To Be Promoted In The Workplace
Know Your Rights | 14 May 2022
Does an employee have the right to a promotion, or is it a privilege? In some circumstances, a person may not be promoted. Does an employee have the right to be promoted if a vacancy arises, for example? This has been an issue of contention for some time now. Various courts have given their views on the subject while hearing cases. Read more here.