May 22, 2022
Good morning. Every Sunday, we publish the results of polls from feature stories that were published the past week. We also give a brief overview of the topics that were discussed.
---
🗳️ POLL RESULTS – Week 74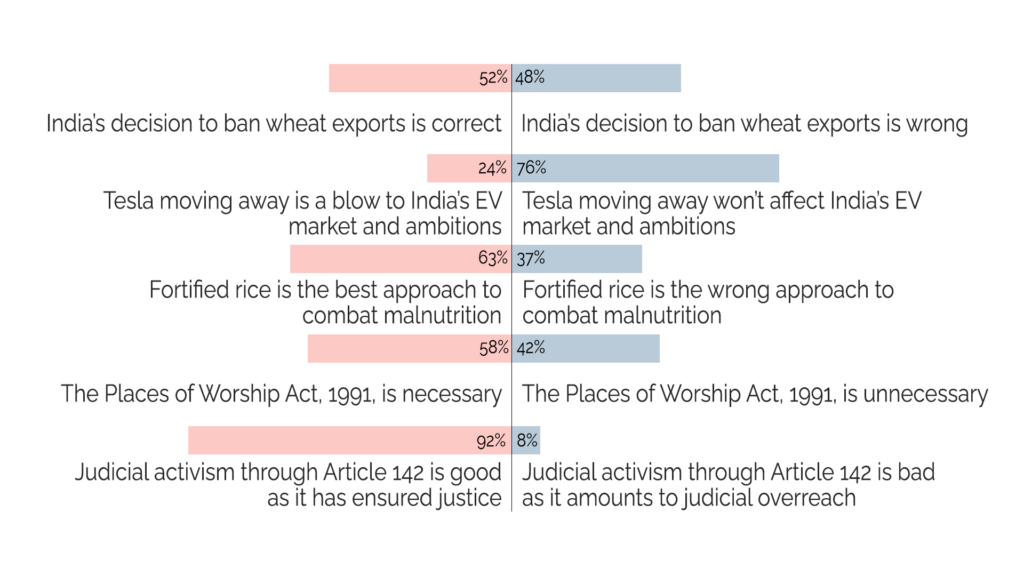 ---
🗓️ THE WEEK THAT WAS
India's Wheat Export Ban – Right Or Wrong?
Daily | 16 May 2022
As global prices continue to rise amid the Russia-Ukraine crisis, India wants to control domestic prices and ensure food security. However, the decision to ban wheat exports has not been welcomed by the G7 countries and our farmers. Read more on this here.
Tesla's Out – A Setback for India's EV push?
Daily | 17 May 2022
Tesla's plan to enter the Indian market isn't happening. The company has abandoned its search for showroom space and reassigned some of its India-based members. The reason is the high import taxes in the country. Is this a blow to India's EV ambitions? Follow this debate here.
Fortified Rice – Added Benefits or Hidden Side Effects?
Daily | 18 May 2022
The government has been pushing for fortified rice as part of its mission to tackle hunger and malnutrition. However, some experts say it could harm some indigenous populations within India. We unpack the debate here.
Places of Worship Act, 1991 – Necessary Or A Hindrance?
Daily | 19 May 2022
With the current Gyanvapi controversy, the Places of Worship Act, 1991, is under the scanner. Does the law hold water in today's polarising atmosphere, or is it necessary to protect and preserve India's rich and complicated history? Read more on this here.
Decoding the Use of Article 142 by the Supreme Court
Daily | 20 May 2022
Most recently, the Supreme Court cited Article 142 and released AG Perarivalan, a suspect in the assassination of former Prime Minister Rajiv Gandhi. Is Article 142 and the court's use of it a good form of judicial activism, or does it set a bad precedent? Find the details here.
Right to Disconnect from Work
Know Your Rights | 21 May 2022
Imagine a world where once you're off work, it stays that way. We're talking about no extra emails from the office, no weekend logins, and no need to go through your work contacts once you've logged out. But is logging off from work a right? Find out here.