May 29, 2022
Good morning. Every Sunday, we publish the results of polls from feature stories that were published the past week. We also give a brief overview of the topics that were discussed.
---
🗳️ POLL RESULTS – Week 75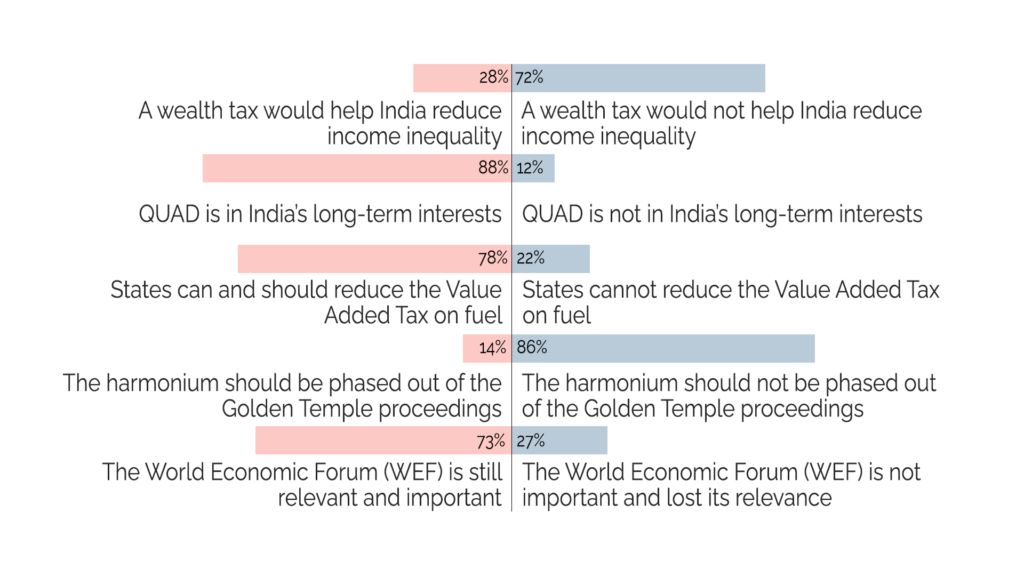 ---
🗓️ THE WEEK THAT WAS
Wealth Tax – Should India Pursue It?
Daily | 23 May 2022
A wealth tax could be a way to ensure those at the top pay more than their fair share. But would this do any good? Wouldn't it be better to ensure proper compliance with current tax regimes? Read more on this here.
QUAD – Is it in India's long-term interest?
Daily | 24 May 2022
Does QUAD represent an overall good for India long-term? Or has the current geo-political landscape undermined QUAD's importance for India? Follow this debate here.
Fuel Tax Cut – Do States Need To Follow Suit?
Daily | 25 May 2022
The Centre recently announced a reduction in the central excise duties for petrol and diesel; part of a slew of measures to control inflation. With this cut, Finance Minister Nirmala Sitharaman requested states to follow through and cut their state taxes on fuel. Some states are reluctant, citing a loss in revenues. We unpack the debate here.
Should Harmonium Be Removed From The Golden Temple?
Daily | 26 May 2022
Giani Harpreet Singh, one of the five clergies at the Golden Temple, urged the Shiromani Gurdwara Parbandhak Committee (SGPC) to phase out the harmonium. He says it's not in keeping with Sikh traditions. Does he have a point, or is this another case of wiping important history? Read more on this here.
Is the World Economic Forum still relevant?
Daily | 27 May 2022
Does the WEF still have relevance? Has it done what it set out to do? Has it evolved with the changing economic and geopolitical landscape? Or is it a necessary forum to discuss important issues and help showcase emerging economies and countries? Find the details here.
Post-Mortem Personality Rights
Know Your Rights | 28 May 2022
In the context of their rights, what happens when a famous person dies? The person is no longer alive and isn't directly benefitting financially or otherwise. We discuss this here.