July 10, 2022
Good morning. Every Sunday, we publish the results of polls from feature stories that were published the past week. We also give a brief overview of the topics that were discussed.
---
🗳️ POLL RESULTS – Week 81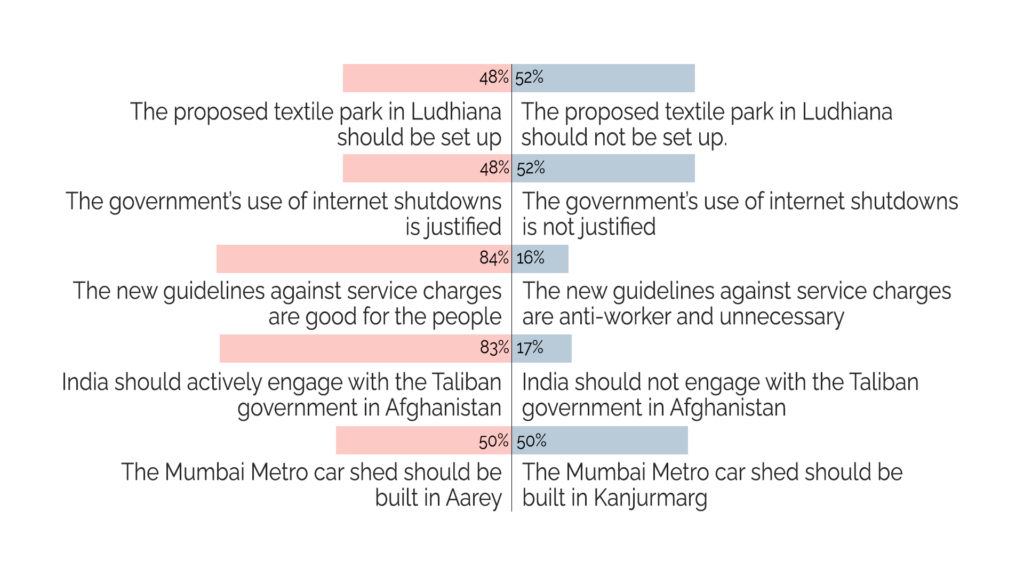 ---
🗓️ THE WEEK THAT WAS
Row Over Ludhiana Textile Park
Daily | 4 July 2022
The proposed mega textile park in Ludhiana has come up against stiff opposition. In May, the government confirmed that seven mega industrial estates will come up costing ₹4,445 crores in the district. It's bound to be an economic boon for the sector and the region. But there has been a chorus of opposition against it considering its location. Read more on this here.
Are Internet Shutdowns Justified?
Daily | 5 July 2022
Over the years, an internet blackout has become the government's go-to option to "maintain law and order". The problem is that, with the internet's growing presence in our daily lives, a deliberate block affects much more than just a few instances of fake news. Given that we recognise the socio-political repercussions of an internet shutdown, can their use still be justified? Follow this story here.
Service Charge: To Pay Or Not To Pay?
Daily | 6 July 2022
The Central Consumer Protection Authority (CCPA) believes it isn't a customer's job to pay a restaurant's employees adequately. Especially when most of those customers aren't even aware of doing it. This is what the new guidelines against service charges are based on – cold hard principles. We unpack the debate here.
India's Taliban Outreach – Should Or Shouldn't They?
Daily | 7 July 2022
Late last month, India reopened its Kabul embassy. It also dispatched a team consisting of diplomats and others to monitor and coordinate the delivery of humanitarian assistance. Should India actively engage with the ruling Taliban regime or back off given their unreliability? Read more on this here.
Deconstructing the Aarey Metro Car Shed Controversy
Daily | 8 July 2022
While the former Uddhav Thackeray government shifted the location of the Metro car shed to the salt pan of Kanjurmarg, the Shinde government wants it back at Aarey. The problem is that what seems like a politically petty plan could adversely affect generations of Mumbaikars. Find the debate here.
Employees' Right to a Bonus
Know Your Rights | 9 July 2022
Whether it's Christman, Diwali or just an annual check, a bonus is a bonus. Who doesn't like a little bit of extra cash in their pockets? And a little can go a long way when it comes to employee satisfaction. We discuss this here.