September 24, 2022
Good morning. Every Saturday, we publish the results of polls from feature stories that were published the past week. We also give a brief overview of the topics that were discussed.
---
🗳️ POLL RESULTS – Week 92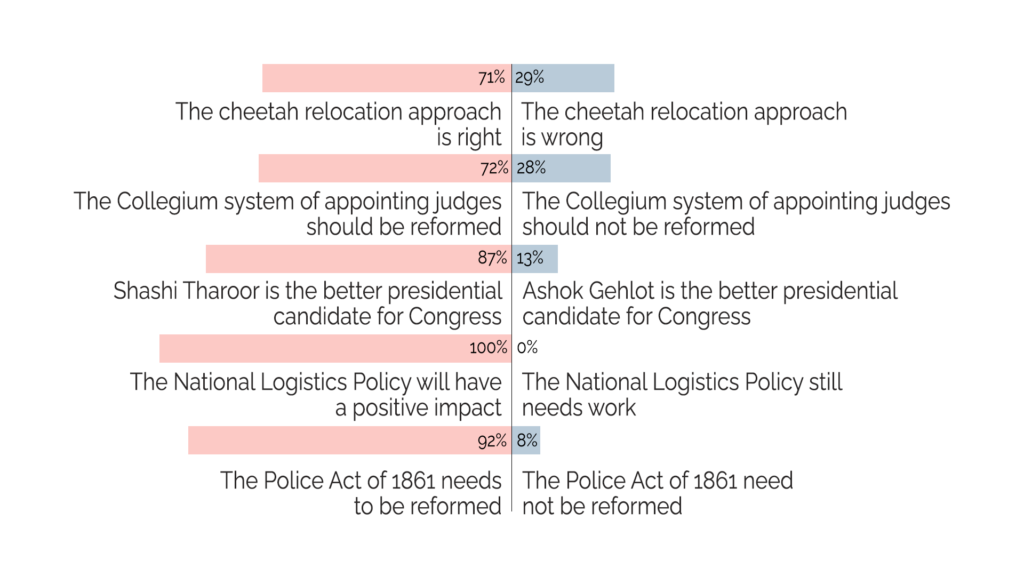 ---
🗓️ THE WEEK THAT WAS
Reintroduction Of Cheetahs – Is It The Right Approach?
Daily | 19 September 2022
Prime Minister Narendra Modi released eight cheetahs at the Kuno National Park in Madhya Pradesh. While most of us celebrate our birthdays with friends and cake, this was how the Prime Minister celebrated his. Will this relocation project work? Is it the right approach to conserving these cats? Read more on this here.
Collegium System Of Appointing Judges – Should It Be Rethought?
Daily | 20 September 2022
For a democracy to function effectively, an impartial and independent justice system is imperative.  This is precisely why the method of appointment of judges in the judiciary is a crucial aspect of judicial independence. We discuss it here.
Shashi Tharoor or Ashok Gehlot?
Daily | 21 September 2022
Former Union Minister Shashi Tharoor is set to go up against staunch Gandhi family loyalist and Rajasthan Chief Minister Ashok Gehlot. While both individuals are strong candidates, who will serve as a better Congress President? We unpack the debate here.
The National Logistics Policy – Will It Have A Positive Impact?
Daily | 22 September 2022
As we transition into a post-pandemic world, India is one country paying attention to logistics. It recently introduced the National Logistics Policy to ensure India's economy remains competitive and continues to grow. We discuss the policy, its impact, and whether it'll shape up to be everything it needs to be or fall short. Read more on this here.
Is It Time To Revisit The Police Act Of 1861?
Daily | 23 September 2022
With the new naval ensign, replacement of army bands with Indian musical instruments, and even the renaming of the Kartvya Path, Prime Minister Narendra Modi has ventured on a journey to shed the country's colonial inheritance. However, a lesser acknowledged colonial legacy, the Police Act of 1861, has not come to the forefront of this venture. Read more here.