October 22, 2022
Good morning. Every Saturday, we publish the results of polls from feature stories that were published the past week. We also give a brief overview of the topics that were discussed.
FYI: Our team will take a break on Sunday and Monday on account of Deepavali. So, we won't be sending this newsletter on Monday and Tuesday next week. We will be back on Wednesday, 26th October. Happy Deepavali!
---
🗳️ POLL RESULTS – Week 96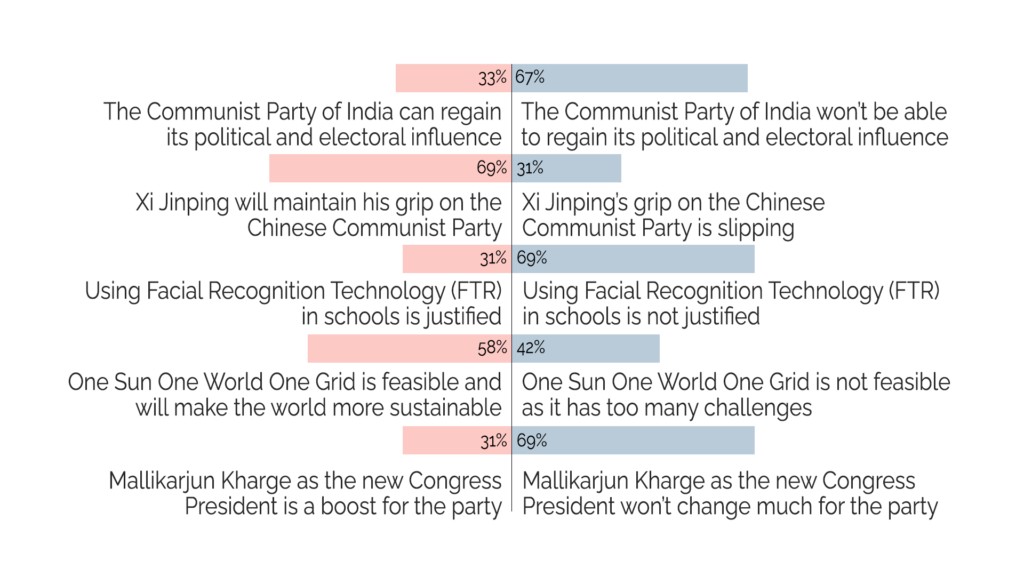 ---
🗓️ THE WEEK THAT WAS
CPI's 24th National Congress – Can It Regain Its Mojo?
Daily | 17 October 2022
The Communist Party of India's (CPI) national meet is underway as it looks to form a coherent strategy to take on the BJP and remerge on the national stage in any meaningful way. Over the past several years, the CPI's influence has waned. Electorally, they've been left with only a handful of pockets across the country. They're not the force they once were. As they now gather, can they chart a comeback? Read more on this here.
Is Xi Losing His Grip On The Party?
Daily | 18 October 2022
President Xi Jinping's now decade-long rule has led to a dramatic change in China. Leader of the world's second-largest economy and one of the biggest military forces, is Xi losing his grip on the CCP, or will he continue to wield power over the country for the rest of his life? We discuss it here.
Facial Recognition In Schools – A Step Too Far?
Daily | 19 October 2022
In several schools across India, technology has entered the campus. Not just in aiding education with tablets and computers but for security and keeping track of attendance. We're talking about facial recognition. Was this inevitable? Is it fair to have such technology in schools, or is there an inherent danger? We unpack the debate here.
One Sun One World One Grid – Is It Feasible?
Daily | 20 October 2022
First put forth by Prime Minister Narendra Modi at the First Assembly of the International Solar Alliance (ISA) in October 2018, the One Sun One World One Grid (OSOWOG) initiative is the first international network of global interconnected solar power grids. However, questions about the feasibility of such a huge venture have been raised. Read more on this here.
Mallikarjun Kharge As Congress President – Change Of Fortunes For The Party?
Daily | 21 October 2022
As Congress elected a new president in Mallikarjun Kharge, something has definitely changed. It now has a new leader. As the party tries to claw its way back to electoral success, Kharge has his work cut out. He's taking on the formidable machinery that is the BJP. But does he represent enough of a change to reverse the party's fortunes? Read more here.