October 29, 2022
Good morning. Every Saturday, we publish the results of polls from feature stories that were published the past week. We also give a brief overview of the topics that were discussed.
---
🗳️ POLL RESULTS – Week 97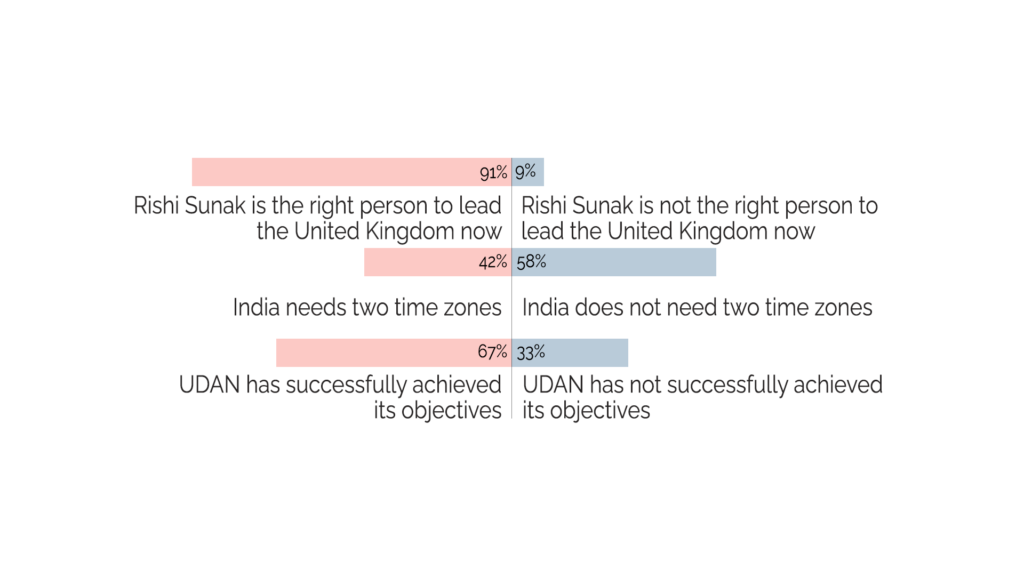 ---
🗓️ THE WEEK THAT WAS
Rishi Sunak As UK PM – Is He The Right Choice?
Daily | 26 October 2022
Amid the political turmoil brewing in Britain, Rishi Sunak has emerged from the chaos as the only hope for the country. He was handed the key to 10 Downing Street on Tuesday after Liz Truss resigned from the position of leader of the UK within six weeks. The first-ever Indian-origin Prime Minister of the United Kingdom – is Sunak what the country needs? Read more on this here.
Should India Have Two Time Zones?
Daily | 27 October 2022
We are the second-largest country after China which runs in a single time zone. This has posed certain challenges based on the difference in daylight times between the longitudinal extremes of the country. While there is some merit in considering this change, what are the obstacles that come with it? We discuss it here.
Has UDAN Worked?
Daily | 28 October 2022
In a bid to make air travel more accessible to everyone, the government launched the UDAN (Ude Desh ka Aam Naagrik) initiative under the Centre's Regional Connectivity Scheme (RCS) in 2016. Now that it has completed 6 years, we thought we could take a look at the impact it has had. Has UDAN successfully promoted air travel for the common man or does the scheme merely raise eyebrows on paper? We unpack the debate here.