March 28, 2023
Good morning. In today's either/view, we discuss whether the conviction of Rahul Gandhi in a criminal defamation case was right. We also look at the discovery of plastic rock near the Andaman coast, among other news.
---
📰

FEATURE STORY
Purnesh Modi vs Rahul Gandhi: Was the Surat court's verdict correct?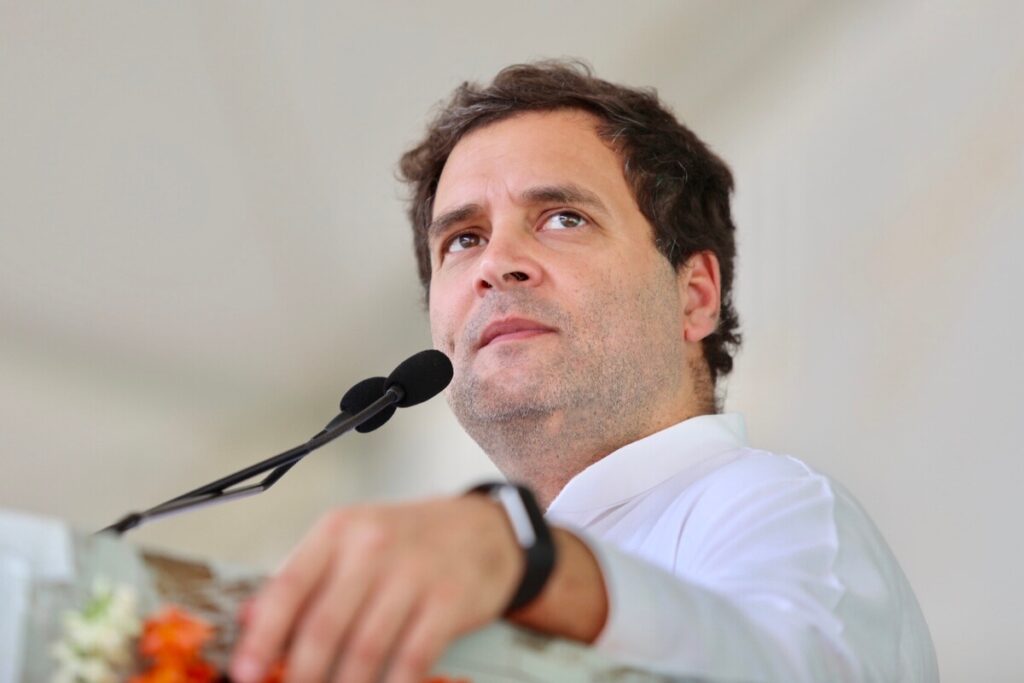 Sticks and stones may break bones, but words can never hurt. Not exactly applicable in this instance, but the courts and the law don't need to look at that. There has been a lot of discussion about the state of India's democracy recently. Be it the ruling government's controversial actions on journalists and the opposition or Rahul Gandhi's interview about India's eroding democracy abroad.
It's Rahul Gandhi now who's at the centre of it all. A Surat court sentenced Gandhi to two years in prison in a 2019 defamation case against him over his "Why all thieves have Modi surname" remark. The court observed Gandhi didn't change his tune despite warnings from the Supreme Court. He was convicted under Sections 499 and 500 of the Indian Penal Code (IPC). As the BJP celebrated and lauded the decision, others see it as a chilling verdict.
Context
Let's take a look at the case's origin. In the run-up to the 2019 Lok Sabha elections, things were heating up between Congress and the BJP. Gandhi was holding a rally in Kolar, Karnataka. In his speech, he allegedly said, "how come all the thieves have Modi as the common surname?". He cited Nirav Modi, Lalit Modi, and Narendra Modi.
Shortly after, BJP MLA Purnesh Modi filed a criminal defamation case in a Surat court. Gandhi, in his final statement in 2021, said he had no intention to defame any community.
Cut to 2023, and the Surat court found him guilty. Judicial Magistrate Verma suspended the sentence, and Gandhi got bail. He now has 30 days to appeal in a higher court though the conviction is still valid.
Defamation can be a slippery slope. In India, it can be a civil or criminal offence. If it's a civil case, then monetary compensation will suffice. If it's a criminal case, it's jail time to serve as a deterrent to others. Another important note in a criminal case is defamation should be established without a reasonable doubt.
Section 499 of the IPC describes the spoken, written, symbolic, and visual forms of defamation. These can either be published or said with the intent to damage a person's reputation. Section 500 stipulates imprisonment of up to 2 years with or without a fine for the guilty.
Following the defamation verdict, Gandhi was disqualified as an MP. The disqualification of an MP convicted for an offence can happen in two instances. First, if the offence is listed in Section 8(1) of the Representation of the People Act of 1951. It includes promoting enmity between different groups, bribery, etc. Second, if the lawmaker is convicted of any other offence and sentenced to two or more years.
There's an unusual aspect of this case that needs to be noted. Purnesh Modi sought a stay from the high court last year. He succeeded in delaying it for nearly a year. Usually, it's the accused who seeks a stay. Modi returned to the court last month and wanted the stay dismissed after stating that sufficient evidence was available. Another question that has gone unanswered is, why was the magistrate changed last month?
These recent events have caused an uproar in Indian politics. The BJP has celebrated the court verdict, arguing that no one is above the law and insulting the country's head of state comes at a price. Others have pointed to recent events validating Gandhi's remarks on Indian democracy and the need to change domestic defamation laws.
VIEW: It sets a bad precedent
How many parliamentarians will pass the test put on Gandhi? Some see selective efficiency in disqualifying members of the opposition while turning a blind eye to members of the ruling party. It's also unclear whether the court was satisfied that Gandhi intended or knew that his remarks would harm Modi's reputation. Some argue that the court's verdict didn't correspond to the SC's Subramanian Swamy vs Union of India judgement in 2016.
In the latest proceedings, Gandhi's counsel argued that the court didn't follow the process enlisted under Section 202 of the Code of Criminal Procedure. As Gandhi is a resident of Delhi and outside the Surat court's jurisdiction, the law mandates the magistrate to investigate before deciding to issue a summons. According to the counsel, no such inquiry occurred.
Defamation laws in India favour protecting the right to reputation over free speech. In a 2010 SC ruling, the court established that a collection of persons should be an identifiable body distinguished from the rest of the community to demonstrate the offence of defamation. It is difficult to prove that Gandhi's Modi remark targets a particular community. Gandhi's counsel argued that there is no association or unique subsection of people with the Modi surname.
COUNTERVIEW: No one is above the law
Gandhi has ten defamation cases against him. The most recent one was filed in November for his remarks on Vinayak Damodar Savarkar during the Bharat Jodo Yatra. Previously, he challenged the criminal defamation law before the Supreme Court. The apex court dismissed the plea.
The narrative from the BJP is that no one is above the law, certainly not someone who has repeatedly made offensive remarks against the Prime Minister and questioned his democratic ideals. The party sees his Modi remark as a casteist slur shaming anyone with the Modi surname. Narendra Modi is part of the OBC. Union Minister and OBC leader Bhupender Yadav said Gandhi's remarks insulted the OBC community and promoted division.
In some ways, Gandhi's current predicament is of his own making. After the defamation suit was filed, Gandhi could've told the court he had no intention of attacking an entire community, and the statement was regrettable. He didn't. The Congress could've secured a stay. He could've appealed to a higher court. Given the party's expeditious actions in the Pawan Khera case, Congress perhaps scored an own goal in Gandhi's case.
Reference Links:
What is your opinion on this?
(Only subscribers can participate in polls)
a) The Surat court's verdict in Purnesh Modi vs Rahul Gandhi was right.
b) The Surat court's verdict in Purnesh Modi vs Rahul Gandhi was wrong.
---
🕵️ BEYOND ECHO CHAMBERS
For the Right:
If the Home Minister Truly Wants a Safe Digital India, Here's What He Can Do
For the Left:
Khelo India is the 'IPL of dreams' for rural youth—and it means a lot to women like me
---
🇮🇳 STATE OF THE STATES
Schools of Eminence yet to be fully staffed (Punjab) – The Aam Aadmi Party government's flagship program of creating "Schools of Eminence" (SoE) by upgrading 117 existing state-run senior secondary schools is set to hit its first roadblock on April 1, when they are supposed to become operational with the start of the new academic session. The selected 117 schools, which were proposed with "zero vacancies," have nearly 20% of the sanctioned teaching positions and nearly half of the non-teaching positions empty.
Why it matters: According to the education department's data, the selected 117 schools are presently dealing with a high number of vacant positions. The science program is presently unavailable in 22 Eminence Schools. The commerce track is not operational at 34 Schools of Eminence, and 30 have been found where no high or middle school is located for admission of new pupils in Class 6. The AAP recently completed its first year of governance in Punjab, but its tenure so far has been very lacklustre. Their high-achieving record in Delhi is yet to bear any fruits in the internally drained state of Punjab.
Plastic rock discovered near Andaman coast (Andaman) – During regular surveillance of waste from the ocean waters near the Andaman and Nicobar Islands, a team of marine biologists discovered a fragment of rock made of plastic from a beach on Aves island. This is India's first such discovery. Plastiglomerate is a type of rock made up of sand, granite pieces, shells, and other elements bound together by plastic. It is a novel type of plastic pollution identified by experts in 2014.
Why it matters: According to Punyasloke Bhadury, a professor of biological sciences at the Indian Institute of Science Education and Research in Kolkata, this is the first plastiglomerate discovery in India. Plastic pollution in the seas and on beaches has triggered a worldwide catastrophe. Every year, thousands of seabirds, turtles, seals, and other marine animals are slain after eating or becoming entangled in plastic. The discovery of a rock made out of an artificial material showcases how dire the problem of ocean water pollution has become.
Convicts get caught after 49 years (Bihar) – The long arms of the law eventually caught up with two convicts who were apprehended by the Railway Protection Force (RPF) in Bihar's Saran region nearly 50 years after an FIR was filed against them dealing with railway property theft. Prabhu Rai, 68, and Godhan Bhagat, 69, were recognised as the suspects by police. On Sunday, one of them was apprehended in Nayagaon and the other in Doriganj in the region.
Why it matters: Both accused were brought before a railway judge and sentenced to 14 days in judicial detention. Rai was 19 years old, and his partner Bhagat was 20 at the time of the crime, according to police. An FIR was filed against them in 1974, and the railway judge of Sonpur in Saran district issued a permanent order against them in 2001, in spite of more than 100 attempts to catch them from their alleged hideouts. This showcases that no matter how many times a convict escapes, they only need to be caught once for justice to prevail.
IMA launches a nationwide protest against RTH bill (Rajasthan) – The Indian Medical Association (IMA) declared on Saturday that it would hold a national black day on March 27 to oppose Rajasthan's Right to Health (RTH) Bill, which was recently approved in the state legislature despite medical professionals' demands that it be repealed. Doctors across the state, including the IMA's Rajasthan branch, have been opposing the Act, which grants every citizen the right to free treatment as well as 'emergency care' without payments at any health facility in the state.
Why it matters: The Act states that any patient can receive free treatment at public health facilities, and it also prohibits both government and private hospitals from refusing care. Patients can also receive free 'emergency treatment' at public health institutions, healthcare establishments, and specified healthcare centres. The term "medical emergency", however, is not defined explicitly, and IMA has questioned how private hospitals will be reimbursed for their costs. It is obvious that the bill has been passed without placing any safeguards to contain its ramifications.
Nagaland's first anthology launched (Nagaland) – 'Homegrown: Anthropology of New Writings from Nagaland,' is a first-of-its-kind anthology containing 35 authors from various backgrounds, tribes, and towns. Published on Saturday, the work was edited by independent scholar Vizovono Elizabeth and associate professor Sentinaro and published by Penthrill. Sentinaro, one of the book's editors, explained that the collection was created with the aim of bringing together the perspectives of younger rising authors.
Why it matters: During the book's launch, publisher Rita Krocha stated that the book contains significant tales of what Naga life is made of, touching accounts and poems that remind one of home in some way, and essays that essentially highlight the intriguing journey of literature in Nagaland, which has seen quite the transformation from oral to written literature. The release of this book is a significant event. Keeping the concept of representation aside, such works create a feeling of familiarity and connection in the people who hail from the same places the authors and characters do. Something which made the movie "Black Panther" more lovable by black audiences.
---
🔢 KEY NUMBER
10 – Climate change impact on Odisha: ten storms in the last 12 years and eroding shoreline.