July 24, 2023
Good morning. In today's either/view, we discuss whether F&B companies should discontinue using aspartame. We also look at the spending for cancer care in Odisha, among other news.
---
📰

FEATURE STORY
Should F&B companies discontinue using aspartame?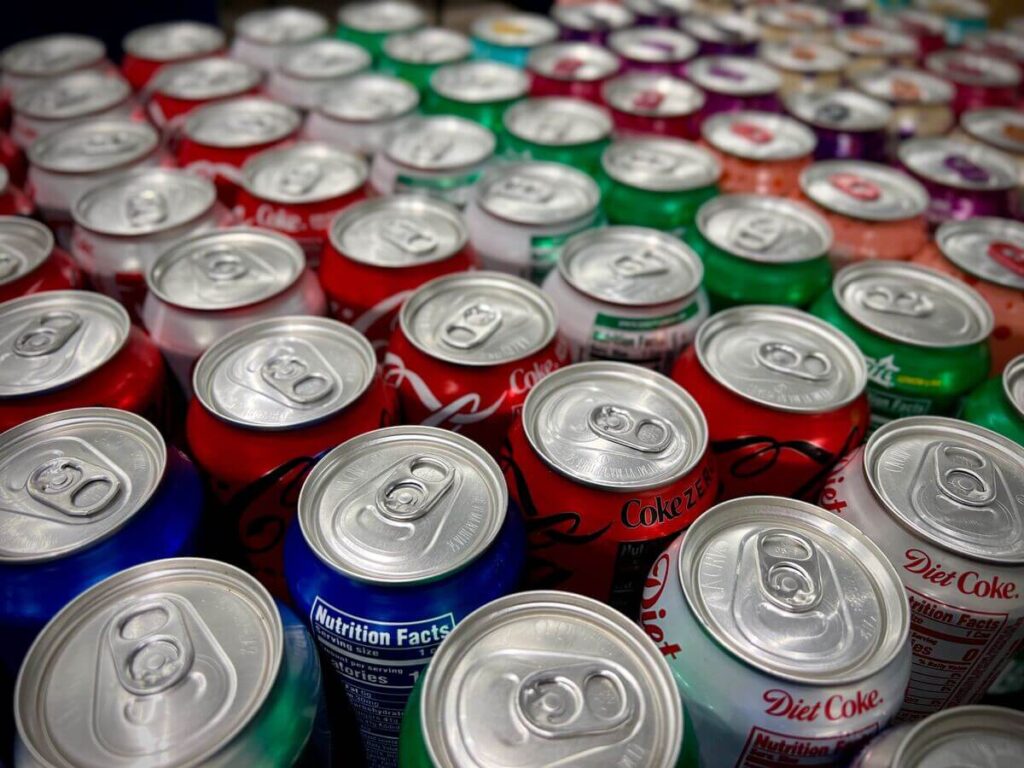 Once in the morning before getting dressed, once in the evening during sundown, and sometimes in the afternoon after lunch. Indians love their chai. It's the elixir that unites the liberals, plutocrats, and the working class. And for most, the sweeter the better. The Western equivalent, measured in obsession metrics, of course, is popular diet sodas like Diet Coke. For the calorie-conscious and diabetic population, artificial sweeteners come to the rescue.
Aspartame, a popular artificial sweetener, has been under scrutiny ever since it entered the market. It's 200 times sweeter than sugar with a fraction of the calories. It powers the most popular diet foods, like Diet Coke, Coke Zero, Trident, and Mentos' sugar-free chewing gums. The scrutiny intensified when on July 13, an agency associated with the World Health Organisation (WHO) announced that aspartame is possibly carcinogenic. Does that mean food and beverage (F&B) companies will discontinue its usage? Not necessarily. Well, should they? The verdict is split.
Context
Table sugar composes of two carbohydrates, glucose and fructose. It's associated with a lot of health risks, and even non-diabetic people are advised to consume it sparingly. Higher blood pressure, inflammation, weight gain, diabetes, and fatty liver disease are some of the known hazards associated with sugar. While there are natural sugar substitutes like fruits, stevia, and sugar alcohols, the artificial camp has aspartame, sucralose, and saccharine.
Aspartame's coming-of-age as a sweetener was happenstance. In 1965, American researcher and chemist James M Schlatter decided to have a doughnut. Later, he resumed working on an antiulcer drug and, in the process, mixed aspartic acid and phenylalanine, two naturally occurring amino acids. He was also used to licking his fingers to flip through pages.
So later, when he licked his finger before turning a page from a book, he picked up something sweet-tasting. It surely couldn't be the doughnut he'd had before, for he'd washed his hands after. Eventually, the chemist figured out that the sweet taste belonged to the dipeptide compound produced in the lab.
He and his partner tried it in their coffee. Excited, they reported the finding to their bosses, and GD Searle saw its commercial potential. At the time, there wasn't an artificial sweetener in the American markets that satiated everybody's requirements. Soon to be banned Cyclamate was under the gun, and saccharine had a bitter aftertaste.
They wasted no time patenting the "Peptide sweetening agent," granted on January 27, 1970. Per US laws, Searle petitioned the Food and Drugs Administration (FDA) for approval and received it in 1974. After extensive probes and testing, it entered the market in 1981.
By 1983, the FDA approved its use in soft drinks, and Big Beverages like Coca-Cola, PepsiCo, and 7-up scrambled to get it. Within a year, Searle had sold $600 million worth of aspartame. It powered the rise of Diet Coke culture in the West.
It's not just beverage companies that champion its usage. You'll find it in gelatin, ice cream, dairy products like yoghurt, breakfast cereals, toothpaste, cough drops, and chewable vitamins. Clinicians advise their diabetic patients to take it in limited quantities. It's a popular sugar substitute and can lead to weight loss, at least in the short term.
In the past, F&B companies have been a part of multiple controversies, whether using brominated vegetable oil (BVO) as a stabiliser in aerated drinks or high MGS levels in Nestle's Maggi. Recent findings on aspartame, however, affect not just one product but around 6,000 products in the F&B segment.
Based on limited evidence, the International Agency for Research on Cancer (IARC) and Joint Expert Committee on Food Additives (JECFA) classified aspartame as possibly carcinogenic to humans, while reiterating its permissible daily intake of 40 mg per kg body weight.
IARC has a grading system to classify possibly carcinogenic substances according to their associated risks. Grade 1 substances, like smoking, asbestos, and processed meats, are proven cancer-causers. Grade 2 has "probably" or "possibly" carcinogenic stuff. '2A' has strong animal evidence but limited human data backing it up, like red meats and night-shift work. '2B' includes possibilities with insufficient animal data and limited human proof, such as cell phone radiation. Aspartame falls in grade 2B of IARC's grading system.
VIEW: No need to jump the gun
WHO's announcement is pretty straightforward. Existing research is simply insufficient to prove the carcinogenic risks associated with aspartame. For years F&B companies have been successfully swatting away such claims. They have a lot riding on aspartame, due to its lower cost, manufacturing efficiency, and flavour-enhancing effects. They'll be largely able to continue using it until longer-term large-scale research materialises. Hugh Johnston, the chief financial officer of PepsiCo, said that existing evidence tips the balance in aspartame's favour.
For now, it seems like the risks are associated with doses above the safe amount of consumption. Per another WHO committee, a 150-pound person would have to consume over a dozen cans of Diet Coke to exceed the safety threshold. The US Food and Drug Administration has even challenged the original WHO report, reaffirming that aspartame is safe.
All of this means that a big consumer response is unlikely. Johnston from PepsiCo doesn't expect much antagonism from consumers. People are accustomed to certain tastes and aren't going to want the taste of their favourite beverages and chewing gums to change. Unless consumer-driven, it seems unlikely that aspartame's stint will end, at least in the near term.
COUNTERVIEW: Public health is no joke
F&B companies may be more prepared for a switch-up than we know. These companies aren't ignorant of the scrutiny faced by one of their top ingredients and would want to have a Plan B. According to Garrett Nelson from CFRA research, they already do. The tug-of-war between profits and welfare may not even be much of a barrier here. Besides, waiting for a consumer-led effort in such cases may charge the food and health agencies for neglecting public health. After all, if diet sodas are being marketed at the rate that they have been in the past few decades, manipulating consumer behaviour, efforts to inform consumers of its risks should step up too.
The recent report should be enough to alert consumers and health agencies to the health risks of artificial sweeteners. It's not that people consume 12 Diet Cokes a day, but they could consume dairy products, gum, tea, and sodas in quantities that raise their risk of cancer. An oft-cited French study of 100,000 people over a median time of 7.8 years revealed that artificial sweeteners, especially aspartame, and acesulfame-K, increased the overall risk of cancers. They also resulted in higher risks for breast and obesity-related cancers.
On a non-carcinogenic note, the health advantages of artificial sweeteners are also debatable. WHO found that their usage contributed to weight gain over time. The problem is that artificially sweetened products still have other calorie sources like oil, ghee, and processed flour. It's also ill-advised for people with phenylketonuria, a rare inherited disorder, to take aspartame.
Reference Links:
What is your opinion on this?
(Only subscribers can participate in polls)
a) F&B companies should discontinue using aspartame.
b) F&B companies shouldn't discontinue using aspartame.
---
🕵️ BEYOND ECHO CHAMBERS
For the Right:
To grow at 7.5% or not
For the Left:
Why it's mischievous to give Manipur violence an anti-Christian colour
---
🇮🇳 STATE OF THE STATES
New solar farm (Punjab) – SJVN Green Energy Limited (SGEL) has been selected by the state government for a 1,200 MW solar power farm. The company got a letter of intent from the Punjab State Power Corporation Limited (PSPCL). It'll develop a 1,000 MW project elsewhere and balance it with 200 MW in Punjab. The projects will be developed on a Build Own and Operate (BOO) basis with the tentative cost estimated to be ₹7,000 crores.
Why it matters: Once the project is completed, it's expected to reduce 34.2 lakh tonnes of carbon emissions. The company has a goal to produce 25 gigawatts of generation capacity by the end of this decade. The agreement between the company and PSPCL is for 25 years. The company's shared vision for renewable energy is in line with the government's goal of 50% non-fossil fuel-based energy by 2030.
Need for low-floor buses (Tamil Nadu) – The task to get low-floor buses that make travelling more accessible for persons with disabilities remains a non-starter. In April, following a petition by activist Vaishnavi Jayakumar, the Madras High Court ordered the state transport department to buy more low-floor buses and upgrade existing infrastructure. However, a new tender was recently floated only for 1,000 high-floor buses.
Why it matters: The court asked the transport department to modify the earlier tender to buy 1,100 high-floor buses and add 157 low-floor buses to the list. While the court did allow the department to buy high-floor buses at the time, it stated, in the future, only low-floor buses should be bought. The department said high-floor buses were being bought for mofussil routes, including village roads where low-floor buses can't ply.
Cancer care spending (Odisha) – The Odisha government is projected to spend over ₹1,000 crore in the next two years under its Comprehensive Cancer Service (CCS) scheme to ensure people have the best cancer care at an affordable rate. The money will be spent on several local hospitals with 50-100 beds, operation theatres, and ICUs. It'll also have radiotherapy and chemotherapy facilities.
Why it matters: The healthcare system in the state could be under threat since the number of cancer patients is increasing faster than expected. A survey has shown the most common cases are oral, gastric, and lung cancers among men, while breast, cervix, and ovary are common among women. Tata Memorial Trust has been entrusted to set up a cancer hospital on the National Institute of Science Education and Research (NISER) campus.
Illegal mining threat (Rajasthan) – Jaipur residents woke up on Friday morning to tremors that measured 4.4 on the richer scale. Experts say the city may face similar tremors in the future thanks to deteriorating soil imbalance due to illegal mining in Aravali. Since mining involves using explosives, the inner part of Aravali is slowly being hallowed out. One expert said the tectonic plate gets disturbed over time.
Why it matters: The mountains of Aravali are becoming eroded as more people move there and the ongoing mining and construction activities. Hence, the eastern fault line is becoming active causing more tremors. The state has seen other events like floods in Tihar due to ecological imbalances. Thousands of trees are cut, and illegal mining has gone unchecked.
BVFCL Namrup plant controversy (Assam) – Members of the All Assam Students' Union (AASU) protested the government's decision to close the Brahmaputra Valley Fertilizer Corporation Limited (BVFCL) at Namrup. They submitted a memorandum demanding the government reconsider the decision. The plant's closure was recommended by NITI Aayog in a meeting last August. Union Minister Bhagwanth Khuba said under the New Public Sector Enterprises (PSE) Policy for Atmanirbhar Bharat, fertiliser is a non-strategic sector, and industries under this will be considered for privatisation or closure.
Why it matters: The plant in question has been struggling to survive for many years due to declining production. The Namrup-1 unit was set up in 1969 and then shut down in 2017. The remaining two units have been struggling with outdated technology and machinery. The plants provide direct employment to over 1,000 people and would impact the local and state economy if it closes.
---
🔢 KEY NUMBER
₹1,814 crore – Darwin Platform Infrastructure Ltd (DPIL) won the bid to revive Lavasa, India's first private hill station for ₹1,814 crores. The news comes half a decade after the insolvency resolution process began for Lavasa Corporation.