October 2, 2023
Good morning. On account of Gandhi Jayanti, we are taking a day off today. We will not be publishing this newsletter tomorrow. See you on Wednesday!
In today's either/view, we discuss whether large-scale infra projects should take a back seat in Himachal Pradesh. We also look at the battle against drug peddlers in Punjab, among other news.
---
📰 FEATURE STORY
Should large-scale infra projects take a back seat in Himachal Pradesh?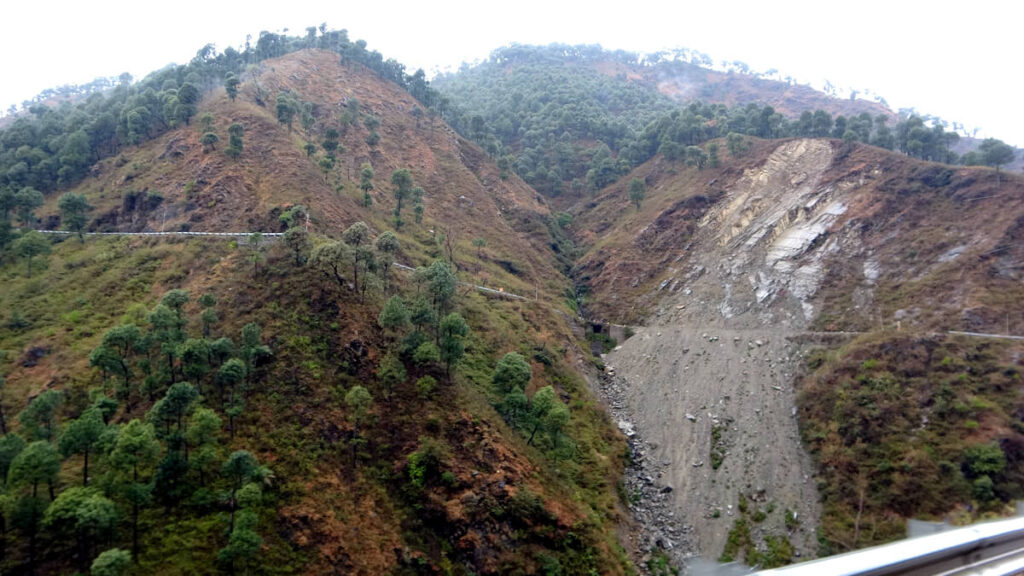 Over a month back, horrifying pictures and videos came out of the hill state of Himachal Pradesh showing massive landslides, rock falls, flash floods, and cloudbursts. In what appears to be tragedy's frequent trysts with the state, visuals of buildings collapsing like a pack of cards, cars being washed away in waves of moving water, and roads getting caved in have become common for the state.
Whenever such disaster strikes as it does every few months, rampant construction and tourism in the region are blamed for being responsible for the calamities. For a state that has only recently started making strides in infrastructure, would it be prudent to keep its development plans on halt for the sake of its people's survival?
Context
In the month of August this year, incessant monsoon showers in the state triggered landslides blocking several arterial roads and leading to the collapse of several buildings in densely inhabited regions. This, however, was not a sudden occurrence. Nature had been giving warning signs to the state's residents since early August when several houses in Himachal's Ramur developed cracks forcing people to flee.
Himachal has always been highly vulnerable to landslides during monsoons owing primarily to its unstable Himalayan terrain. In recent years, the periodic calamities have been worsening in scale exacerbated due to human activities in the region. While some call the phenomenon "nature's fury", others have termed it "nature's fury in the face of human greed". Rampant construction has been taking place in the hills with the mountains subjected to a development model of assault instead of that of harmony. Trees are chipped, land excavators ravish the slopes in an unscientific manner, and even blasting is carried out.
It is argued though, that these steps had been necessary to bring the state into the mainstream after it had been left out for several decades. The state, which earlier lagged in terms of connectivity with only 3-4 highways before 2014, has 66 national highways today with 2,700 km of road construction happening only in the last five years. Other development projects amounting to over ₹6,000 crore include the AIIMS Bilaspur, Una Drug Park, Vande Bharat connection, and the Nalgarh Medical Device Park, all of which came up in the past 5 years. The infrastructural feat of the world's longest highway tunnel (the Atal Tunnel) also came in the same construction-intensive period.
These infrastructure mega projects have now become election planks for political parties both for the bygone state elections and the upcoming general elections. However, these projects are criticized for being politically motivated and benefitting only a few important people while other essential projects such as the Central University of Himachal Pradesh in Dehra continue to be under construction for more than 10 years. Villages of Tibetan Buddhist monasteries are also alleged to be sidelined in the development process as NOCs (no-objection-certificates) have been granted to carry out clearing blasts in their protected regions.
The Kullu-Manali stretch, Shimla, and Dharamshala have seen rapid urbanization due to large tourist traffic. Recognizing the threat to the Beas River and the surrounding ecology from tourist activity, the National Green Tribunal (NGT) ordered the closing down of riverbank hotels in 2013. In 2017, the NGT banned all construction activities in the state capital of Shimla. Following the August disaster, approval for construction activities was again banned in Shimla, Mandi, Kullu, Kangra, Solan and Chamba districts although only for two weeks.
Since landslides in Kinnaur in last year's summer, the tribal residents of the region have become aware of the perils of super-construction projects. Since August last year, the 'No means no' campaign to stop the sanctioning and commissioning of any new hydel projects in their area has been running to promote awareness and to mobilize action against the ₹5,700 crore Jangi Thopan Powari Hydroelectric Power project.
Villages have even started boycotting elections in the region causing significant losses for incumbents. However, these boycotts aren't party-specific but against the failure of successive governments to check illegal mining in various river beds.
VIEW: Construction kills
The biggest problem in the state's development story is that at places of construction, the free flow of nullahs is blocked and it is at these places where landslides occur. Both authorised and unauthorised constructions bring with them the issue of disposal and dumping of debris and garbage. In places witnessing large-scale construction, the norms in the approved plans are not being followed either, by not providing water drainage routes to maximise profit and save on costs.
For grand hydel projects and laying down underground tunnels, 'controlled' explosions must be performed. However, they cause permanent damage to the mountainous terrains and rock structures causing strata instability, which in turn also damages farmlands and local residential areas. The construction of hydroelectric projects brings down the water flow in rivers and has ironically been causing water shortages in the state.
The hydel projects, apart from directly and indirectly causing climate change in the agricultural regions, have also been taking a major toll on crop production. The regular dust in the air from all the construction activities has also affected apple pollination, the crop which covers 48% of the state's area.
As projects are commissioned, people are forced to evacuate from their homes and villages. In light of recent events and when the state's ecosystem is already hung in precarious non-balance, furthering heavy construction would only invite more disaster.
COUNTERVIEW: Development must go on
Former US President John F. Kennedy believed that "the US is rich because its roads are good." As Himachal's CM Sukhu realises, roads, bridges, and water and power projects have been the worst hit in the aftermath of these tragedies and it is their rebuilding which will be the biggest and most important challenge for the still reeling state.
As Himachal works towards recouping its losses worth over ₹20,000 crores, it will need to rely on its infrastructure-dependent backbone sectors of agriculture and tourism. Improved roads will give a boost to tourism in the state, a sector which employs 49% of the state's active workforce. Improving road connectivity and infrastructure would improve both tourism and business in the state.
In a traditionally migration-averse state, unemployment has been a major issue in Himachal. With more than 90% of the workforce unskilled and a 9.2% unemployment rate, the state has more than 8 lakh undeployed youth registered with employment exchanges in addition to those currently under-employed. Infrastructure projects shall bring not only immediate employment for these disenfranchised youth but generate long-term opportunities for the state as well.
The state currently has several centre-backed infrastructure programs in the pipeline including development projects worth over ₹2,000 crore to be completed before 2024. If they are put to a halt, reviving them later would be a bureaucratic tussle for a state that has been out of the mainstream for already too long and is in a debt trap due to poor resource mobilisation.
These infrastructure projects in addition to providing connectivity to places which are still dependent on asses to transport the ailing to health centres and importing daily rations are also important from a military-strategic viewpoint. This includes the Kiratpur-Manali highway which will be instrumental in providing safe passage to the armed forces.
Environmental concerns and lapses which occur happen due to bureaucratic maladministration and should be solved with procedural tightening without sacrificing years of progress.
Reference Links:
What is your opinion on this?
(Only subscribers can participate in polls)
a) Large-scale infra projects in Himachal Pradesh must be stopped.
b) Large-scale infra projects in Himachal Pradesh must go on.
---
🕵️ BEYOND ECHO CHAMBERS
For the Right:
Caste census: Why's Modi hiding the X-ray results?
For the Left:
---
🇮🇳 STATE OF THE STATES
Battling drug peddlers (Punjab) – Women-led groups in rural areas are taking the fight against drug peddlers to protect their communities amidst a rise in drug abuse among youngsters. The Punjab police have encouraged villagers to participate in identifying drug traffickers. The women partake in "thikri pehra" or community policing. With checkpoints and roadblocks at entry points, they stop all vehicles for thorough searches. In some cases, as videos of drug peddlers have gone viral, women have identified and handed them to the police.
Why it matters: According to the villagers, teenagers become drug peddlers since it enables them to make money. They're able to establish a network and get good-quality drugs. The Maqboolpura village on the outskirts of Amritsar is called the "village of widows" since many drug abuse victims are from here. Seizures by the Border Security Force (BSF) and the state police have shown how and why Punjab has become a haven for the narcotics trade.
Increase in liquor prices (Tamil Nadu) – The Tamil Nadu State Marketing Corporation (Tasmac) could announce a price hike of liquor sold at its outlets. The hike could be between ₹5 and ₹50 per bottle. Tasmac is currently waiting for the government's approval for the hike. The decision was made to compensate for the fall in revenue since 500 outlets have been closed. Among the price increases could be ₹5 for rum, whisky, brandy, and gin.
Why it matters: The previous price hike was last year when it was increased by ₹80. This time, it's relatively less. According to estimates, with the new hike, Tasmac could earn an additional ₹1,500 crore as revenue. In the 2022-23 financial year, the corporation's income was ₹ 45,000 crore. In the regular liquor category, a 180 ml bottle costs ₹120. For medium and premium brands, the same currently costs ₹140-150.
Probing building law violations (Jharkhand) – The Jharkhand High Court has formed a three-member committee to look into alleged violations of building permissions by-laws, and sanction plans. The court was hearing a petition against East Singhbhum deputy commissioner, the Jamshedpur Notified Area Committee, and Tata Steel for passing maps of multi-storied buildings in violation of bye-laws in 2016. The members will visit Jamshedpur and assess the situation.
Why it matters: According to the petitioner, the authorities allegedly passed the building maps and occupancy certificates were issued without the buildings being constructed. Water and power connections were also allegedly given despite violations. The construction of small multi-storied buildings was also in violation of the map and approved plans and the builders were selling the parking space for commercial purposes.
New opponent for BJP and Congress (Rajasthan) – The BJP and Congress in the state's tribal belt have a new opponent – the Bharatiya Adivasi Party. It's made up of tribal leaders following the split in the Bharatiya Tribal Party. It's managed by youngsters, similar to the Gujarat-based Bharatiya Tribal Party, which won 2 seats in 2018. The new party has already drawn big crowds at its rallies and meetings, reflecting its influence in the tribal regions. The party is expected to field candidates in about 18 seats.
Why it matters: Leaders like Narendra Modi, Rahul Gandhi and Ashok Gehlot have made several trips to the tribal belt ahead of the assembly polls later this year. Both the BJP and Congress see the new party as a threat. The BJP believes they can't rely only on anti-incumbency against the state government in the region. Educated tribal youngsters are mobilising for the new party as the Congress' presence in the region is almost non-existent.
Investigating border violence (Assam) – The Assam and Meghalaya governments have decided to seek the CBI's assistance in investigating the 2022 Mukroh violence which left six people dead. Chief Minister Himanta Biswa Sarma and his Meghalayan counterpart Conrad Sangma told reporters the decision was a confidence-boosting step. The CBI will be tasked with recording complaints in a neutral area like Delhi or Kolkata rather than Guwahati or Shillong.
Why it matters: Last November, six people were killed in gunfire in Mukroh along a contentious part of the state's border with Meghalaya. The dead included five residents of Meghalaya and a forest guard from Assam. Both states weren't able to make any progress in their investigations since witnesses didn't travel to the other state to testify before a commission.
---
🔢 KEY NUMBER
₹10,000 – The Karnataka government has banned carpooling in Bengaluru and advised people not to use carpooling apps. The maximum fine for violators is ₹10,000.