September 1, 2023
Good morning. In today's either/view, we discuss whether nano urea will help India's agriculture sector. We also look at the pharma investments in Gujarat, among other news.
---
📰

FEATURE STORY
Will nano urea help India's agriculture sector?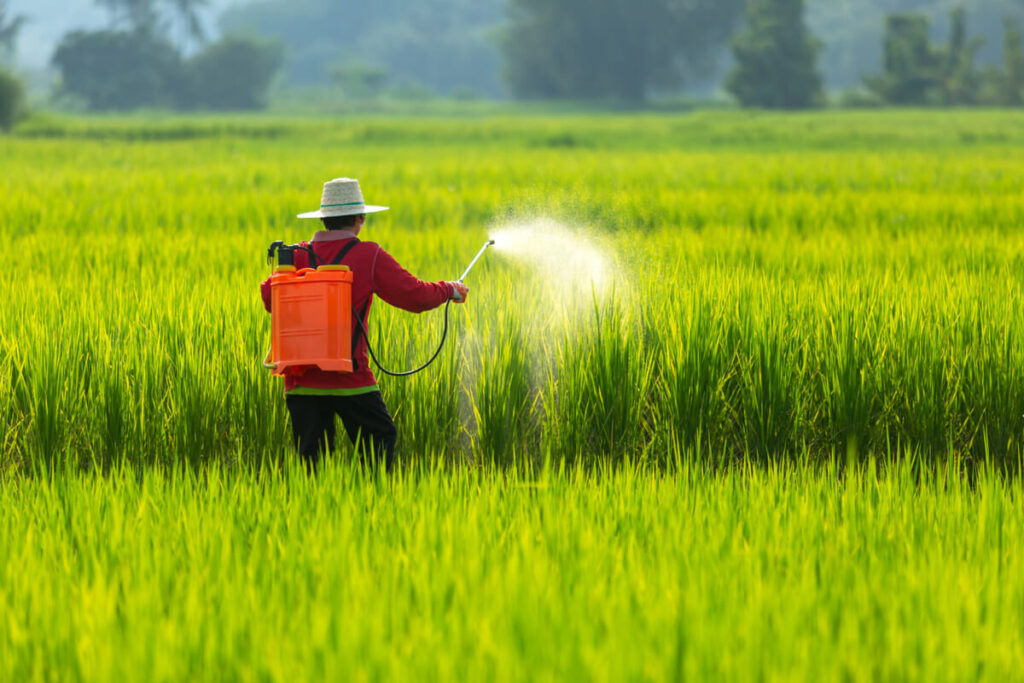 India being an agrarian economy means the government and others are always looking for methods that primarily achieve two things – increased output and farmer incomes. Over the decades, successive governments have introduced plenty of policies to varying degrees of success. Some are more controversial than others. Some are cognizant of the science, while others focus on the economic gains.
Those two concepts are present in the government's insistence on nano urea for farming. The government wants to reduce its dependence on importing urea, and the local nano urea project is the best way. However, scientists and others aren't convinced nano urea has any material benefits for farmers.
Context
For a while, India was known as a "subsidy raj". Some early estimates from a few years ago stated India spends about 2% of its GDP on food, fuel, and fertiliser subsidies. Since 2014, fertiliser subsidies have been the largest after food.
Urea is a vital part of the farming process. The urea market in India is almost exclusively government-controlled. That means its price isn't allowed to fluctuate all that much. Under the Fertilizer Movement Control Order, manufacturers and distributors are told where to sell. Concerning imports, only a handful of companies are allowed to, with specifications on how much and when.
Regular access to fertilisers is important for a country where agriculture is over 60% of the population's income source. The government has classified fertilisers as an essential commodity.
Why did fertilisers become so common and vital? It goes back to the 1960s when India struggled on the farming front. India depended on countries like the United States for grains to feed its growing population. That strained the country's foreign reserves and was a setback to India's goal to become self-sufficient. The 1970s saw a turnaround. India's cereal production increased by 45%, and could even afford to export to Afghanistan, Bangladesh, and Vietnam.
When the time came for economic reforms in 1991, the government wanted to decrease the size of subsidies on all fertilisers. Successful lobbying meant this didn't happen at the scale intended. The main reason fertiliser subsidies persist is it's seen as a means of social protection for marginalised farmers. There's a lot of political resistance to removing subsidies or reducing them to a large extent.
Urea is a major component of the input cost. Any increase in its cost would result in increased food prices. That would not only affect domestic consumption but also exports. In FY2021, India was the top importer of urea. India consumes about 33 million tonnes of urea annually.
In 2021, news came in of nano urea. The Indian Farmers Fertiliser Cooperative (IFFCO) claimed it began commercial production of a first-of-its-kind nano urea liquid after four years of testing and trials. It was produced with proprietary technology at IFFCO's Biotechnology Research Centre (NBRC) in Kalol, Gujarat. It was sold as a win-win – cheaper than regular urea and better for the environment. However, has that been the case?
VIEW: It's revolutionary
The liquid nano urea developed by IFFCO was priced at ₹240 for a 500 ml bottle. That would replace the 45 kgs of conventional granulated urea sold at ₹266 after being subsidised. From the government's point of view, this is a relief since it reduces the cost of transportation, storage, and import. According to Union fertiliser secretary Arun Singhal, India could save ₹15,000-20,000 crore annually.
India has always aimed to be self-reliant in many aspects. This is a positive step in that direction. Instead of importing millions of tonnes of normal urea, 170 million bottles of locally-made nano urea should do the trick. The government has set 2025 as a target to cover 25% of farmers. There's more good news. New products like organic manure and Di-ammonium Phosphate (DAP) as replacements to conventional fertilisers will also help bring the import bills down.
Nano urea is also better for the environment. Conventional urea emits nitrogen-based greenhouse gases like nitrous oxide. Nano urea is sprayed on the plant leaf. The particles are tiny, about 20 to 50 nanometres. They release nitrogen inside the plant. In initial trials in over 11,000 fields in more than 20 state agriculture universities, the increase in crop yield was about 7-8%.
COUNTERVIEW: Not all are convinced
For something this revolutionary, you would think there's a lot of data and information about nano urea. That's not the case. The process to make nano urea is patented, so that information isn't public. We also don't know the exact ingredients either. That's worrying. There's a sense that the government fast-tracked nano urea production for political purposes.
Concerning trials, the proof should be in the proverbial pudding, but it isn't. On the ground, farmers didn't see any meaningful increase in production. Some farmers even had to use conventional and nano-urea, which only increased their input costs. IP Abrol, formerly of the Indian Council of Agricultural Research (ICAR), questioned how nanoparticles can increase the effectiveness of nitrogen uptake by being smaller remains unclear. The increase in yields observed in trials was because nitrogen present in the soil and fertiliser was already sufficient. So, the contribution of nano urea was negligible.
A recent paper by Max Frank and Søren Husted from the University of Copenhagen stated that nano urea is "a poorly described product with no scientifically proven effects." Their hypothesis is that the nitrogen content in the soil will deplete and yields will remain stable, irrespective of whether nano urea is added or not. As the years go by, nitrogen levels will further decrease as they get used up and become so low that yields will start to suffer – 21 kg of nitrogen from urea compared to 20 grams from nano urea.
Reference Links:
What is your opinion on this?
(Only subscribers can participate in polls)
a) Nano urea will help the Indian agriculture sector.
b) Nano urea won't help the Indian agriculture sector.
---
🕵️ BEYOND ECHO CHAMBERS
For the Right:
The fire of Manipur's ethnic conflict will spare no one. It is time to think of shared humanity
For the Left:
Pew survey proves India is managing its rise far better than China
---
🇮🇳 STATE OF THE STATES
Ready for elections (Jammu and Kashmir) – The Indian government informed the Supreme Court that it's prepared for elections in Jammu and Kashmir anytime, with the decision resting with the Union Territory and Central election commissions. Regarding restoring statehood, the government, during the 12th day of the Article 370 hearing, acknowledged its temporary status but couldn't provide a definite timeframe due to past disturbances, indicating a longer process.
Why it matters: Solicitor General Tushar Mehta updated progress towards restoring statehood. Initiatives like e-projects and transparent processes have increased projects from 9,229 to 92,580. The voter list update is nearly complete, and elections are due for panchayats and district councils. Terrorism instances will influence election timing, SG Mehta said, citing that it decreased by 45.2%, infiltration by 90.2%, and law and order issues improved significantly since 2019.
Violence in high seas (Tamil Nadu) – Brutal mid-sea attacks, believed to be carried out by Sri Lankan assailants, have angered Tamil Nadu's fishers. Ongoing violence at sea has threatened their lives and livelihoods for around four decades. Recent attacks on Nagapattinam fishers resulted in injuries and net damage. Tamil and Sinhalese-speaking Sri Lankans are suspected and charged, prompting Chief Minister MK Stalin to urge Minister S Jaishankar for swift intervention and diplomatic resolution.
Why it matters: In the past few months, Indian fishers on small fibreglass boats have faced attacks by unidentified persons in civilian attire, arriving on high-speed boats. The assailants use violence, stealing catch and equipment and causing harm. The historic fisheries dispute between India and Sri Lanka has led to several deaths and injuries. Despite talks, no lasting solution has emerged. Indian trawlers are allegedly still detained by the Sri Lankan Navy. Some propose reclaiming Katchatheevu, a ceded islet, as a potential resolution.
Tech lessons for Similipal personnel (Odisha) – The Similipal Tiger Reserve plans to enhance its personnel's skills through collaboration with the Wildlife Institute of India (WII), focusing on new technologies for effective big-cat monitoring. Recently activating a tiger cell, the reserve aims to automate tiger movement data analysis. Currently, a forester and three forest guards are being trained by an assistant conservator of forest rank officer in software handling.
Why it matters: Personnel at Similipal Tiger Reserve employ a mix of manual and technological methods for tiger analysis. The software "ExtractCompare" aids in separating and monitoring individual tigers based on their stripes. This helps track incoming, outgoing, and dispersing tigers for data management. Camera traps record tiger movement, with weekly chip updates analysed through the software for efficient monitoring.
Pharma investments (Gujarat) – Gujarat, known as India's pharmacy hub, is attracting substantial investments in its pharmaceutical sector. The Gujarat Food and Drug Control Administration (FDCA) has received license applications worth ₹3,000 crore for both greenfield and brownfield projects. Sanand leads with ₹2,200 crore, including a ₹2,000 crore investment by Procter and Gamble India for a personal healthcare manufacturing facility.
Why it matters: Gujarat's pharmaceutical, healthcare, and wellness sectors are attracting MSMEs. Over three years, around 800 new units have been approved by the FDCA, focusing on APIs, pharmaceuticals, ayurvedic drugs, and medical devices. New plants are emerging in places like Valsad, Bharuch, Kadi, Vadodara, and Rajkot, with companies like PI Industries and Omkar Chemical Industries pursuing the construction of API and formulations manufacturing units.
China's new map (Arunachal Pradesh) – China has unveiled an official map claiming Arunachal Pradesh, Aksai Chin, Taiwan, and the South China Sea within its territory. The map's release during mapping events in Zhejiang province prompted India's objection. China responded, urging India not to overreact, defending its stance and advising calm.
Why it matters: China's move provoked reactions, including India's strong protest. India has previously rejected such attempts, asserting the integral status of Arunachal Pradesh. Tensions between India and China persist over boundary issues, with diplomatic discussions ongoing, as highlighted during a recent BRICS Summit interaction between Prime Minister Modi and the Chinese President.
---
🔢 KEY NUMBER
1,499 – The Maharashtra government, led by Chief Minister Eknath Shinde, plans to establish 1,499 new colleges in the state this year.