June 12, 2022
Good morning. Every Sunday, we publish the results of polls from feature stories that were published the past week. We also give a brief overview of the topics that were discussed.
---
🗳️ POLL RESULTS – Week 77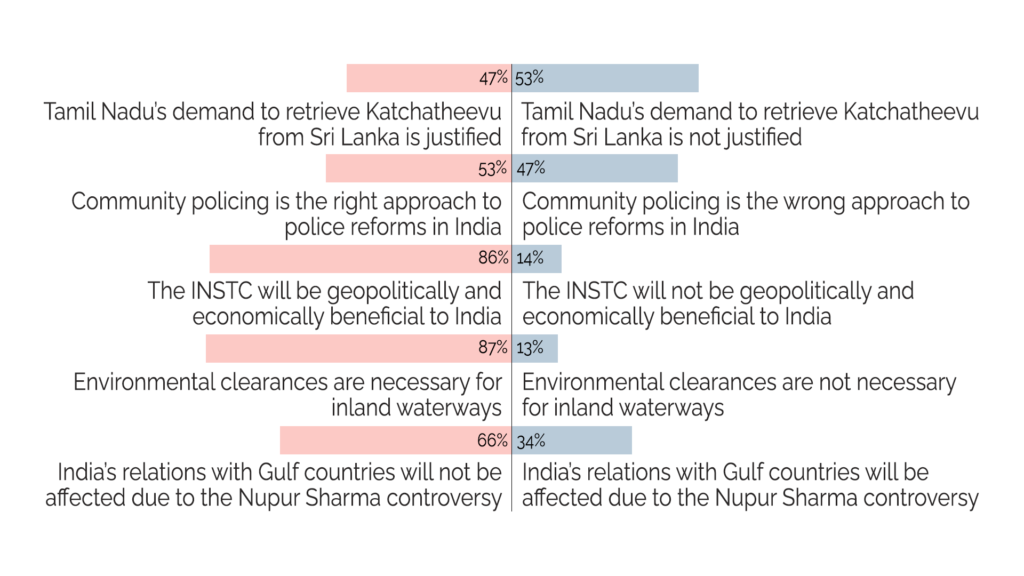 ---
🗓️ THE WEEK THAT WAS
Is TN's demand to retrieve Katchatheevu from Sri Lanka justified?
Daily | 6 June 2022
Sri Lanka's closest Indian neighbour, Tamil Nadu, has arguably been the state the island nation has dealt with the most. With all the disputes over fishermen being captured over alleged illegal crossings, there's a small space of land called Katchatheevu. Tamil Nadu wants to bring it back to India. Is this a wise call? Read more on this here.
Community Policing – Is It Practical In India?
Daily | 7 June 2022
With over a billion people and a high population density, can community policing be the right way forward for India? Or does police reform in India take another form, given the institutional constraints and societal concerns? Follow this story here.
Will India benefit from the INSTC?
Daily | 8 June 2022
INSTC's multi-modal transport network to move goods from India to multiple countries in the Middle East, Central Asia, and Europe could be India putting its cards on the table. But do the costs justify the ambition? Will it help counter Chinese dominance? We unpack the debate here.
Should there be a green clearance mandate for inland waterways?
Daily | 9 June 2022
Given how ecologically important inland waterways are, not just for people but for the environment, shouldn't they be brought under the ambit of environment clearance? Or will that hamper their development in any way? Read more on this here.
Nupur Sharma Controversy – Will It Affect India's Relations With The Gulf?
Daily | 10 June 2022
The fallout from the Nupur Sharma controversy doesn't seem to be dying down. Several countries from the Gulf have spoken out one after the other. Is there a danger of India sabotaging its relations with them? Or is this a temporary blip with normal programming resuming shortly? Find the details here.
Rights of a Diplomat
Know Your Rights | 11 June 2022
Under International Law, diplomats enjoy special privileges and immunities. First up is Inviolability. Diplomatic agents are given personal security. Under Article 29 of the Conventions, it states diplomatic agents aren't liable for any form of arrest or detention. We discuss this here.