July 17, 2022
Good morning. Every Sunday, we publish the results of polls from feature stories that were published the past week. We also give a brief overview of the topics that were discussed.
---
🗳️ POLL RESULTS – Week 82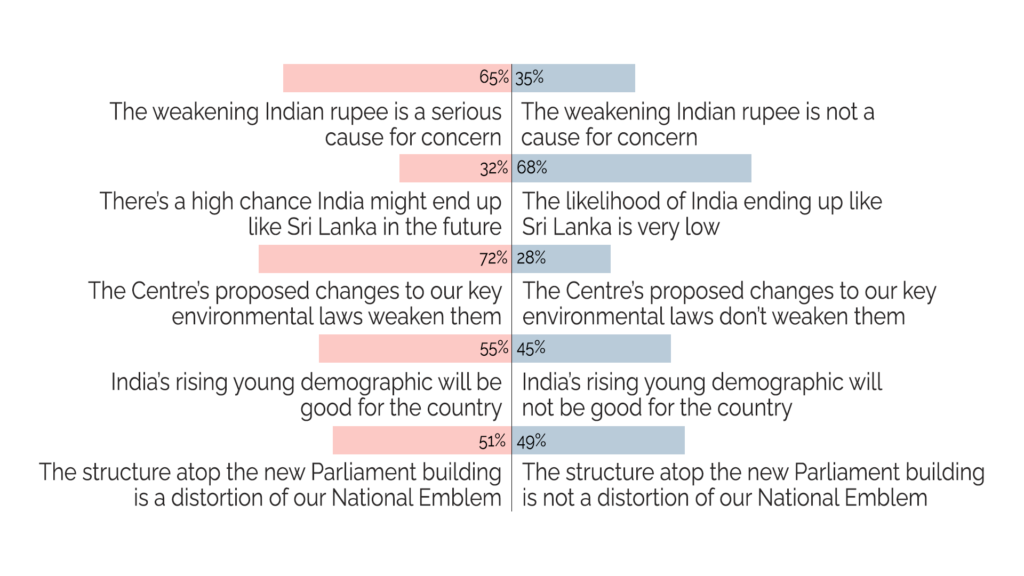 ---
🗓️ THE WEEK THAT WAS
What's The Deal With The Falling Rupee?
Daily | 11 July 2022
Falling can be perceived in two ways, a graceful descent or a horrific crash. When the Indian rupee's falling value is brought up, it's hard to tell what kind of landing we're in for. Now, even the Bank of America has predicted our fears of a record low ₹81 for each dollar may happen. So join us as we try to figure out the state of the economy via our crashing currency and the future. Read more on this here.
Will India become the next Sri Lanka?
Daily | 12 July 2022
The situation in Sri Lanka has left all its neighbours in cold sweats. Turns out, their internal politics isn't too different from the island nation, and the question we're all thinking about is who's next? While some believe India is more stable relative to Sri Lanka's misfortunes, others, including Rahul Gandhi, can't ignore the warning bells. Follow this story here.
Is The Centre Diluting Our Green Laws?
Daily | 13 July 2022
On 30 June and 1 July, the Centre dropped a few proposals for amendments to some of our vital environmental laws. And like most changes, people have opinions about it. Since the main proposals remove imprisonment as a consequence of the Environment, Water and Air Acts, many have questioned the motives of this move. We unpack the debate here.
India's Young Demographic: A Boon Or A Bane?
Daily | 14 July 2022
With unemployment soaring and the employability of India's youth plummeting, the likelihood of turning the new kid on the block into a cash cow is pretty low. So, is India's younger population the sign of a profitable future like we all hoped it would be, or are we looking at another crisis? Read more on this here.
The Parliament's New Lions: How different are they?
Daily | 15 July 2022
Twitter has been pretty busy lately, talking about these pissed-off lions that will sit on top of our Parliament. According to some, the statue even violates the rules and regulations that guide the use of the National Emblem. But, at the end of the day, what is a lion without its fangs? Find the debate here.
Rights of Journalists
Know Your Rights | 16 July 2022
After all this and more, India's report card on press freedom doesn't read well. In the World Press Freedom Index 2020 from Reporters Without Borders, India ranked 142 out of 180. In the 2022 rankings, India dropped to 150. We look at the rights of journalists in this context. Read more here.