July 31, 2022
Good morning. Every Sunday, we publish the results of polls from feature stories that were published the past week. We also give a brief overview of the topics that were discussed.
---
🗳️ POLL RESULTS – Week 84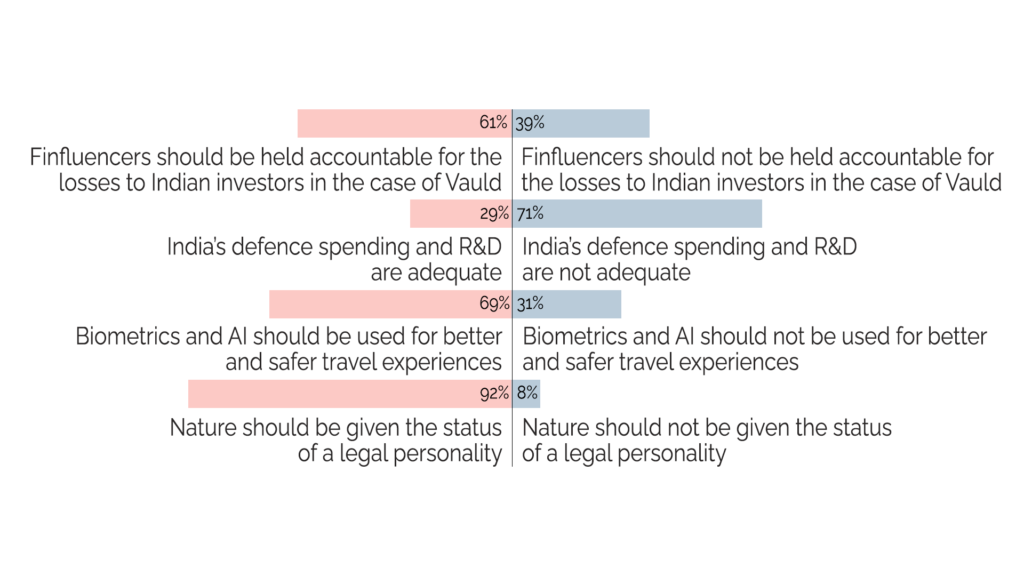 ---
🗓️ THE WEEK THAT WAS
Vauld Debacle – Can Finfluencers Be Held Accountable?
Daily | 26 July 2022
The uproar surrounding the suspension of transactions on Vauld begs the question of the reliability of finfluencers. Is it a good idea to trust sponsored content with your hard-earned money? Read more on this here.
India's Defence Spending And R&D – Are They Adequate?
Daily | 27 July 2022
What has always been a topic of discussion is India's military readiness. The base of that is how much India spends on the military. This includes equipment and research and development (R&D). We debate if they are adequate. Follow this story here.
Post-Covid Safe Travel – Is Technology The Way Forward?
Daily | 28 July 2022
If you've travelled by air in the last year, you're familiar with the health and safety protocols – testing, isolation, etc. Does technology, including biometrics and artificial intelligence, have a role to play? We unpack the issue here.
Can Nature Have Rights?
Daily | 29 July 2022
Animals have rights. Trusts and firms have rights. So obviously, nature would too… right? Well, things aren't as simple in the realm of theory. Read more on this here.
Rights Against Defamation In India
Know Your Rights | 30 July 2022
In India, defamation is considered both a criminal and civil offence. As a civil offence, it is punishable under the Law of Torts. A tort is literally a civil wrong, and tort laws look into remedies for them. This usually leads to monetary penalties. As a criminal offence, however, defamation is punishable with imprisonment under the Indian Penal Code (IPC), 1860. Read more here.