August 7, 2022
Good morning. Every Sunday, we publish the results of polls from feature stories that were published the past week. We also give a brief overview of the topics that were discussed.
---
🗳️ POLL RESULTS – Week 85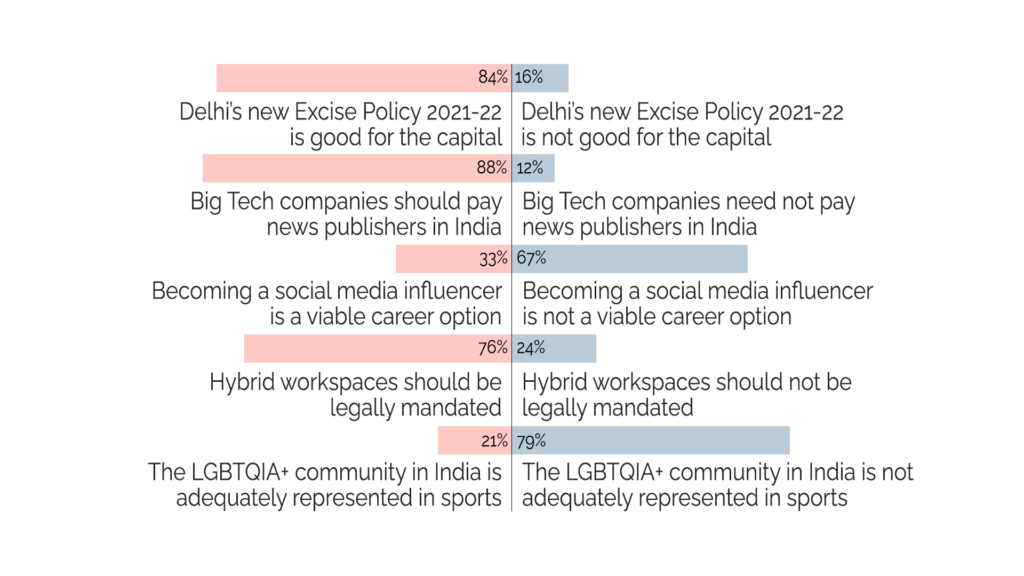 ---
🗓️ THE WEEK THAT WAS
Delhi's New Liquor Policy: Yay Or Nay?
Daily | 1 August 2022
The new rules were getting a lot of negative press and even threatened several jobs. Some even accused the government of bias in the way it was distributing licences. But was this new policy genuinely as bad as people made it out to be? Read more on this here.
Should Big Tech Companies Pay For News?
Daily | 2 August 2022
Recently, the Indian Government pushed for a revision of IT laws to mandate Big Tech companies to pay news publishers for using their original content. Companies such as Google, Apple, Twitter, Meta, Microsoft, and Amazon fall under this umbrella. Follow this story here.
Social Media Influencer: A Viable Career Option?
Daily | 3 August 2022
The rise of the use of social media during the pandemic has led to the subsequent boom in influencer marketing. However, the viability of this career has been questioned on numerous occasions, and doubts about its credibility continue to trouble consumers. We unpack the issue here.
Should Hybrid Workspaces Be Legally Mandated?
Daily | 4 August 2022
While some countries are considering making the hybrid model permanent by imposing laws for the same, Indian employers are still hesitant. Should hybrid workspaces be legally mandated in our country? Read more on this here.
Is The LGBTQIA+ Community Adequately Represented In Sports In India?
Daily | 5 August 2022
Recently, India's first openly gay athlete, Dutee Chand, held an LGBTQIA+ flag at the opening ceremony of the 2022 Commonwealth Games, potentially changing the course for queer Indian athletes. While other countries have been more open to accepting athletes belonging to the community, why did it take India so long to come around? Read more on this here.
Right To Pardon In India
Know Your Rights | 6 August 2022
Who exactly has the power to grant pardon in India? The short answer is that the President, as well as the Governor of every state, have been vested with the sovereign power, referred to as the mercy power, by the Constitution of India. Read more here.