September 10, 2022
Good morning. After publishing 55 editions of the 'Know Your Rights' feature on Saturdays, we have decided to stop writing further editions. Instead, we will send out the summaries and poll results on Saturdays, instead of Sundays. You can check out all the editions of 'Know Your Rights' on our website here. We hope the articles were informative and you enjoyed reading them!
---
🗳️ POLL RESULTS – Week 90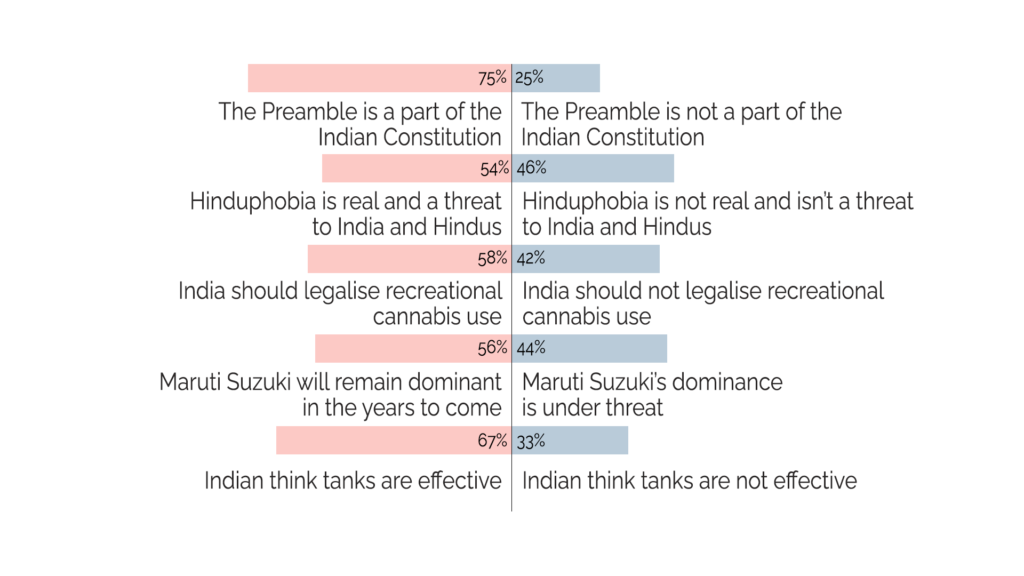 ---
🗓️ THE WEEK THAT WAS
Is The Preamble A Part Of The Indian Constitution?
Daily | 5 September 2022
Every student in India has had to memorize "We, the people of India do solemnly swear… adopt, enact and give to ourselves this Constitution" in an attempt to ace their civics examinations. However, the role of the Preamble in the Constitution has been debated for decades now. Read more on this here.
Hinduphobia – A Real Issue Or Manufactured To Distract?
Daily | 6 September 2022
Can a Hindu-majority country like India be facing a backlash against Hindus? Is Hinduphobia a real threat? Or is it merely a fictional construct by the majority? We try to find out here.
Should the recreational use of cannabis be legalised in India?
Daily | 7 September 2022
It seems surprising that a widely used and distributed product is a topic of much contention in Indian society. Looking at the well-established culture of marijuana in our country, many believe it should be decriminalised. However, opposing arguments emphasise the dangers of addiction that surround decriminalising marijuana. We unpack the issue here.
Can Maruti Suzuki continue its dominance in India?
Daily | 8 September 2022
As Maruti Suzuki recently celebrated 40 years in the highly competitive Indian automobile sector, what does the future hold? Can it continue to dominate and stay relevant in the Indian market? Or is that crown at risk? Read more on this here.
Have Think Tanks In India Been Effective?
Daily | 9 September 2022
In a country with such a convoluted political history, think tanks have had some wins, but they also come with some shortcomings. In view of the recent tax raids conducted by the Income Tax department on think tanks like the Centre for Policy Research, we thought of looking at the effectiveness of think tanks in India. Read more on this here.