July 3, 2022
Good morning. Every Sunday, we publish the results of polls from feature stories that were published the past week. We also give a brief overview of the topics that were discussed.
---
🗳️ POLL RESULTS – Week 80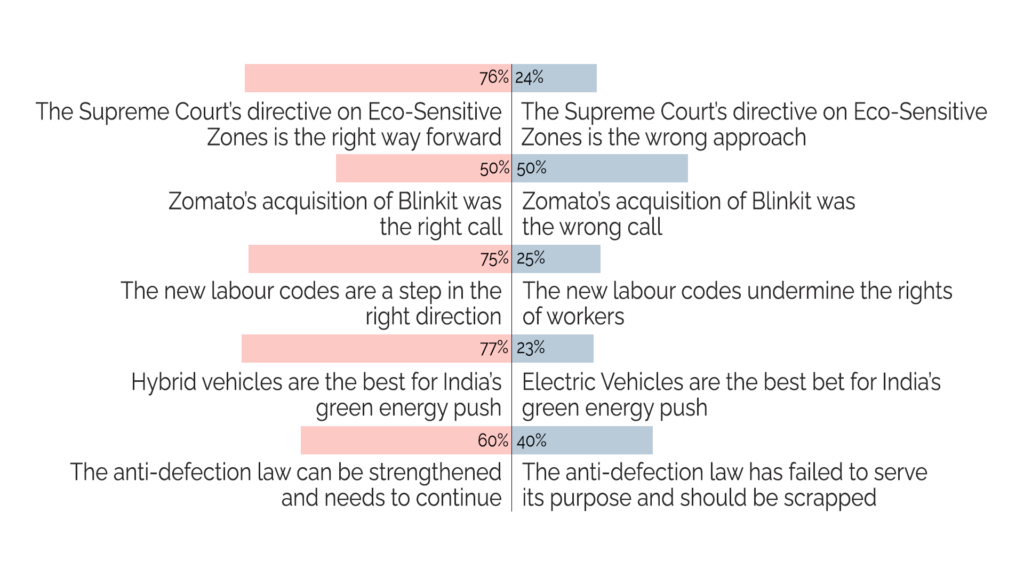 ---
🗓️ THE WEEK THAT WAS
Eco-Sensitive Zones – Conservation Versus Livelihoods
Daily | 27 June 2022
The Supreme Court directed the Kerala government to create a 1-km eco-sensitive (ESZ) around all wildlife sanctuaries and national parks. Its reasoning was a looming climate catastrophe due to global warming. Environmentalists are ecstatic. Local leaders and some experts aren't. Read more on this here.
Zomato acquires Blinkit – Is it a good bet?
Daily | 28 June 2022
Zomato's board approved the acquisition of up to 33,018 shares of Blinkit. With the opportunities and risks in the quick commerce space, is this a good bet on Zomato's part? Is it sustainable? Follow this story here.
New Labour Codes – Good Or Bad For India's Workforce?
Daily | 29 June 2022
The timing of the new labour codes set to take effect from July 1 is striking. Unemployment is a drag on India's economy currently. They'll have far-reaching effects on India's working population. Will the labour codes be positive or negative? We unpack the debate here.
Green Push – Does Hybrid Trump Electric?
Daily | 30 June 2022
Maruti Suzuki, India's largest automaker, believes hybrids are the way to go for a cleaner future rather than EVs. Does the company have a point? Or will people take to EVs given government sops? Read more on this here.
Anti-Defection Law – Has It Achieved Anything?
Daily | 1 July 2022
In Indian electoral politics, the anti-defection law doesn't get much attention. Definitely not as much as the actual act of defection by legislators. But is this law redundant? Or can it be strengthened? Find the debate here.
Right to Bear Arms in India
Know Your Rights | 2 July 2022
In light of the uproar in the United States of America (USA) regarding gun laws, we thought it was a good time to understand our rights to bear arms in the country. We discuss this here.