July 24, 2022
Good morning. Every Sunday, we publish the results of polls from feature stories that were published the past week. We also give a brief overview of the topics that were discussed.
Note: This newsletter will not be published on Monday (25 July 2022). We will be back on Tuesday.
---
🗳️ POLL RESULTS – Week 83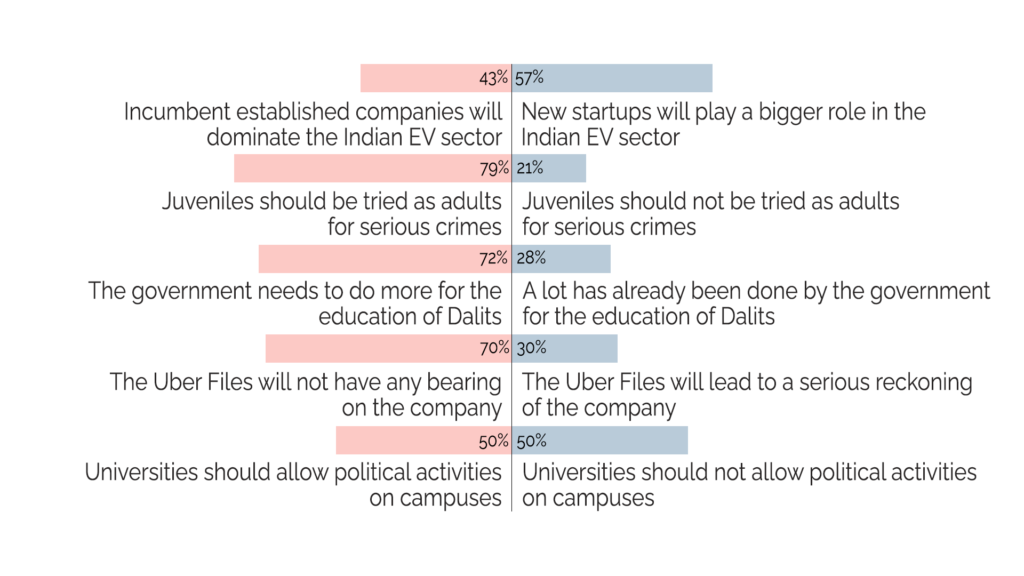 ---
🗓️ THE WEEK THAT WAS
EV Startups – Full Speed Or Bumpy Road Ahead?
Daily | 18 July 2022
With India's electric push and its efforts to achieve climate goals, where do startups fit in? Given how several states are pushing for greater electric vehicle (EV) adoption through dedicated EV policies, is the sector big enough for the big guns and the up-and-comers? Read more on this here.
Should Juveniles Be Tried As Adults For Serious Crimes?
Daily | 19 July 2022
A person below 18 years of age committing a serious crime can result in the law coming down hard on them. But should they be treated as adults for the alleged crime? Or is that too harsh and unethical? Follow this story here.
Education of Dalits in India
Daily | 20 July 2022
We look at the disparity between the promise and practice of education for Dalits, illuminating the still-existing inequalities in Indian society: class, gender, caste, and religion. We unpack the issue here.
The Uber Files – Allegations And Responses
Daily | 21 July 2022
Uber, the multinational ride-hailing company was recently exposed for various illegal activities, and it's all anyone can talk about. But will the Uber Files affect the company adversely? Read more on this here.
Should Universities In India Be Apolitical?
Daily | 22 July 2022
We thought it was time to join the perennial debate on whether Indian universities should encourage political activity on their campuses or detach themselves from politics altogether. Find the debate here.
Rights of Beggars
Know Your Rights | 23 July 2022
India doesn't have an explicit federal law on begging and destitution. However, the issue has gone all the way to the Supreme Court, which had its say. Last year, the court refused to ban begging. The bench said it was a socio-economic problem since people were forced to beg for their livelihood. Read more here.