August 28, 2022
Good morning. Every Sunday, we publish the results of polls from feature stories that were published the past week. We also give a brief overview of the topics that were discussed.
---
🗳️ POLL RESULTS – Week 88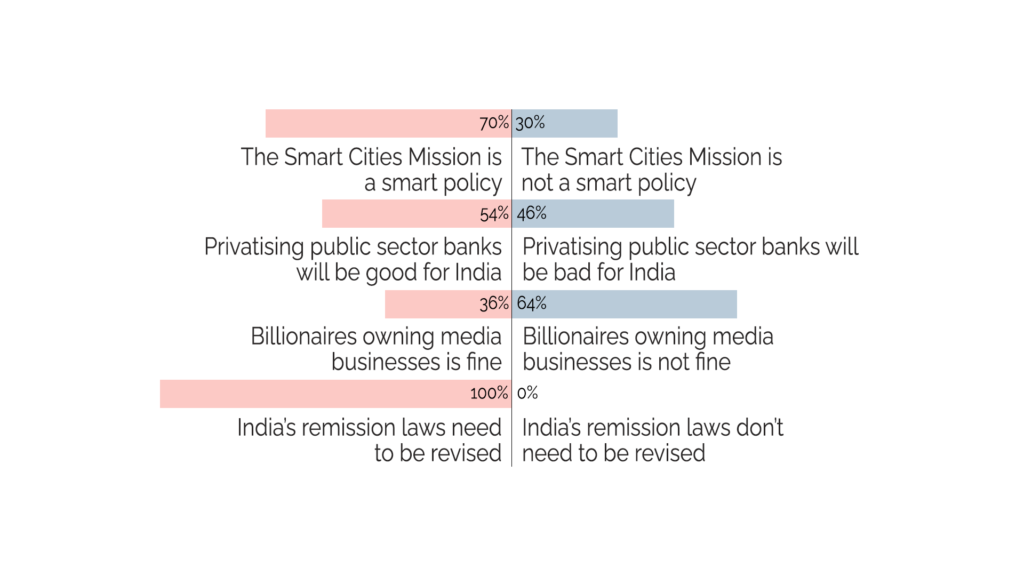 ---
🗓️ THE WEEK THAT WAS
Smart Cities Mission – Is It Smart Policy?
Daily | 22 August 2022
In India, we have the government's Smart Cities Mission. The goal is to renew and develop cities across the country to make them sustainable and citizen-friendly. Is this a pursuit worthy of the time and money being spent? Or is there something inherently wrong with this approach? Read more on this here.
Is Privatising Public Sector Banks A Good Thing?
Daily | 24 August 2022
Considering India's economic potential and growth opportunities, there's been one issue that has garnered debate – privatising public sector banks (PSBs). What goes into privatising PSBs? Why are they necessary according to some, and why it's a disaster to others? We try to find out here.
Adani Acquiring NDTV: Should Billionaires Own Media?
Daily | 25 August 2022
In a recent development, Indian billionaire Gautam Adani moves to take over the popular New Delhi Television (NDTV) by bidding to purchase a 29.18% stake in the media house. As Asia's richest man, Adani's interest in acquiring one of the biggest news channels in the country could go one of two ways. We unpack the issue here.
Bilkis Bano Case – Are India's Remission Laws Flawed?
Daily | 26 August 2022
As India marked another year of Independence, 11 men sentenced to life in prison for rape and murder were released under the Gujarat government's remission policy. While this isn't necessarily a case of justice delayed is justice denied, the issue of remission of convicts is now under the scanner. Read more on this here.
Rights Of Pedestrians
Know Your Rights | 27 August 2022
If driverless cars are in our future, then pedestrians better watch out. Or perhaps they'll be safer? It's hard to tell since there aren't any driverless cars on our roads yet. But walking on footpaths on the side of roads is certainly an experience for millions of Indians, often an unpleasant one. Read more here.