June 19, 2022
Good morning. Every Sunday, we publish the results of polls from feature stories that were published the past week. We also give a brief overview of the topics that were discussed.
---
🗳️ POLL RESULTS – Week 78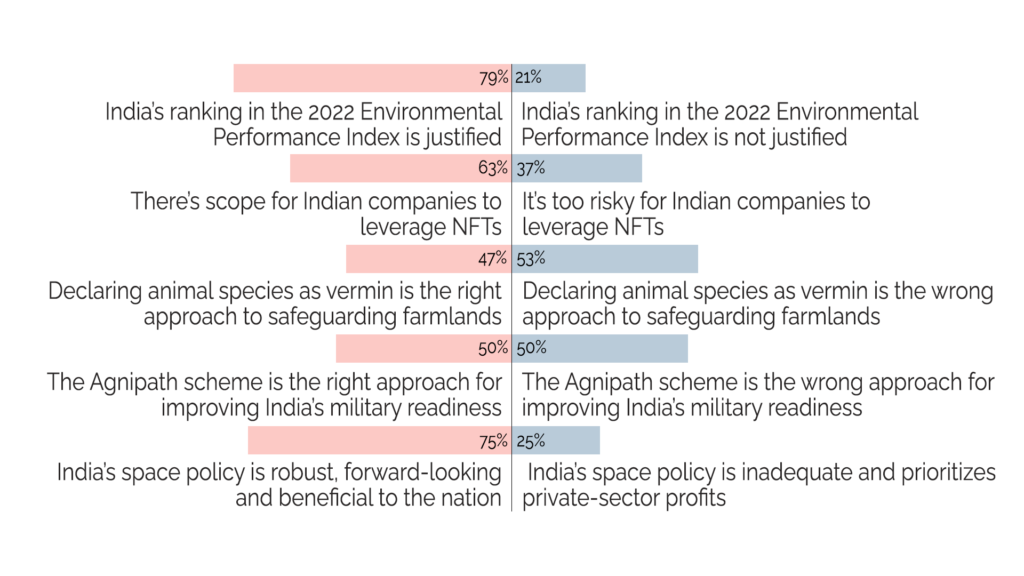 ---
🗓️ THE WEEK THAT WAS
Environmental Performance Index (EPI) – Is India's ranking justified?
Daily | 13 June 2022
With the latest Environmental Performance Index (EPI), India isn't necessarily perplexed but angry for being ranked last. The government has issued a rebuttal to the rankings, pointing out faulty methodologies and unfounded assumptions, among other reasons. Is the government right in its defence? Read more on this here.
Can Indian companies and brands use NFTs for their benefit?
Daily | 14 June 2022
Just how potent and lucrative is the NFT landscape in India? Can brands replicate their foreign counterparts? Or are there just too many unknowns in general and in the Indian market specifically? Follow this story here.
Declaring Species As Vermin – Man Versus Animal?
Daily | 15 June 2022
We've read reports of animals attacking people in towns and villages. Farmers decrying crops being damaged. One solution that has been in place is declaring certain species as vermin and killing a certain number to control their population. Given the existence of the Wildlife Protection Act, is this a sound or even moral policy? Or is it the only way to protect people and farmland? We unpack the debate here.
Agnipath Scheme – Will it improve India's military readiness?
Daily | 16 June 2022
The government has introduced the Agnipath scheme for recruiting and training soldiers. As the government touts this radical shift, some experts and veterans have concerns. Read more on this here.
Dissecting India's Space Policy
Daily | 17 June 2022
Is India's space policy adequate for the current times we're living in? Or does it fall short and prioritize profits over development? Find the debate here.
Rights Involved in Divorces
Know Your Rights | 18 June 2022
Oscar Wilde once said, "divorces are made in heaven." Getting a divorce is never an easy process. For some, it might be. If the emotional struggle isn't overwhelming enough, the legal aspects can be like rubbing salt in the wounds. We discuss this here.